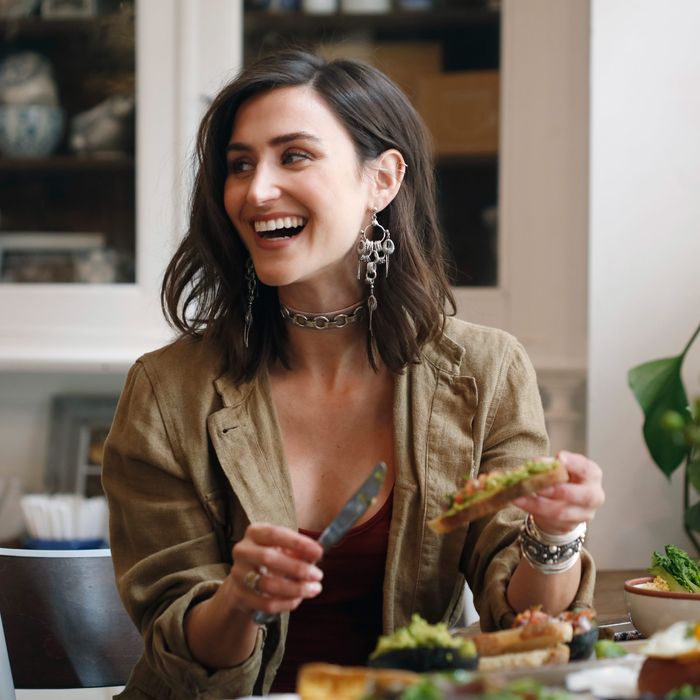 Maman is one of her neighborhood favorites.
Photo: Melissa Hom
As the co-owner of the jewelry line Dannijo, Danielle Snyder's job involves a mix of schmoozing and actual crafting. That sometimes means she needs to eat a ham-and-cheese sandwich on the run, or a bowl of oatmeal "over a bed of crystals, metal, and chains," but Snyder still makes time to sit down for a proper meal of chicken-meatball buns and pork-shank ramen at Momofuku Noodle Bar — or hit neighborhood favorites like Two Hands, Gotan, and Moman. Read all about it in this week's Grub Street Diet.
Thursday, April 28
We have a photo shoot in the morning, so I run over to Kaffe 1668 to grab an iced coffee. I pour out half of it and fill it with a mix of soy and almond milk, and top it off with a pack of brown sugar. After hair and makeup, I'm ravenous and have the caffeine jitters, so I pick up oatmeal and a date smoothie from Juice Press.
I head to the photo shoot in the Meatpacking. It's been a few hours and I'm ravenous again (I have to eat every two hours or else I run the risk of getting hangry). I order a rice bowl from Friedman's in Chelsea Market with extra rice.
Around 4 p.m., I leave the office to prep for our Dannijo cubano dinner party — I have to do the seating assignment, write my toast for the evening, and have my dress altered by 6:30 p.m. I have a green tea and gluten-free, vegan mixed-berry muffin from the Butcher's Daughter. I'm not gluten-free, but my friend Ally, who was staying with me, left it for me. It was sort of spectacular. I don't discriminate when it comes to gluten-free versus gluten-full carbs. I guess I'm diplomatic in that way.
At 7 p.m., I'm welcoming guests to our dinner, which was hosted by my dear friend Lela Rose at her Tribeca townhouse. I'm sipping on a mojito and avoiding the passed apps so I don't have a full mouth when I'm supposed to be greeting people. We're celebrating Dannijo's partnership with Conscious Cuba, and it's a dynamic mix of people — actor Chiwetel Ejiofor, ballerina Misty Copeland, and Questlove, among others.
We feast on food prepared by Lil' Deb's Oasis: fish aguachile (my favorite) and stuffed pork loin with caramelized plantains and mojo verde. I was busy socializing and missed the dessert, a coconut granita with cardamom dulce de leche, which explains why, late night, I have a bowl of Frosted Flakes mixed with Corn Pops cereal. Side note: I'm big into cereal-mixing.
Friday, April 29
I walk to Laughing Man and grab a soy latte, no foam (foam to me is a waste of space). I then head to Maison Kayser for a Parisian sandwich, which I eat on the go. My sister, a friend, and I drive to a vintage warehouse in Yonkers to do some damage. After a few hours, I'm jittery and take a chocolate rice cake from the dealer.
We get back to the city around 4 p.m. and have a late lunch at Two Hands in Tribeca. I share the avocado mash with my sister, and get a yummy brassika bowl along with the juice of the day — a ginger-apple-cucumber blend (I ask them to mix in some fresh-squeezed orange juice as well).
I try Momofuku Noodle Bar for the first time that evening. I have a Montauk summer-ale beer and my friend takes the spicy lychee slushie, which proves to be the jam. For dinner, we share the chicken-meatballs buns (I highly recommend), and I order the pork-shank ramen. I ended up enjoying my friend's Hozon ramen more than mine.
Saturday, April 30
I sleep in and walk to Kaffe 1668 for a hot no-foam soy latte. Even though I prefer their iced coffee with a lot of soy milk, it's a bit nippy out, and I'm not wearing a warm-enough jacket. I run a few errands and meet a friend around noon at Balthazar. I get my usual half-orange-juice-half-grapefruit-juice, and share the sour-cream-hazelnut waffles with warm berries and the avocado and poached eggs on toast with tomato-jalapeño salsa. We crush it.
I spend the afternoon in Brooklyn vintage shopping, and stop by Roberta's for the bee-sting pizza and a beer. Around 4 p.m., I pop by Yorganic for an afternoon snack. I grab a pack of Protein Bakery peanut-butter cookies and a ginger-cucumber-kale-and-apple juice.
I'm seeing the Carole King musical, Beautiful, that night so I have an early dinner at the Lambs Club with a few friends. I start with a Bloody Mary with extra olives, and I have two pieces of the Parker house roll (it melts in your mouth). For dinner we share a few entrees: stuffed Dover sole à la grenobloise, vegan falafel (which isn't on the menu), and chestnut tagliatelle with braised wild boar, mushroom, and Parmesan. We also get a bunch of sides: carrot-and-endive salad with labne and harissa-scallion vinaigrette, and roasted cauliflower and chickpea fries that were stacked like a game of Jenga. I literally have to be rolled out of the restaurant and into Beautiful, feeling slightly bloated. I feel better by the time "Natural Woman" comes on.
Luckily, during intermission, I'm back to my old self, grabbing a king-size pack of Twizzlers and a sparking water. I'm really into sparkling water, and I think it helps with digestion. That's what my grandmother says, at least, and she's usually right. I go to a late-night Prince-themed party, and after that, end up at a random apartment party, where I lose interest in people and grab a bag of spicy nachos-flavored Doritos laying on the kitchen counter around 1:30 a.m. I make a friend who ends up sharing the bag with me.
Sunday, May 1
I went to sleep at 3 a.m., so I sleep till 10 a.m. For breakfast, I go to Maman in Tribeca with my friend Frances, and have the deconstructed avocado toast, a no-foam soy latte, and my signature half-orange-half-grapefruit juice.
Around 2:30 p.m., I'm uptown at Bergdorf's, helping a friend shop for a premiere. We eat lunch at the Bergorf's bar, and I have the organic-chicken-and-endive salad, along with the Mediterranean plate.
At 5 p.m., I stop by the Todd English Food Hall at the Plaza Hotel to pick up a food gift for a dinner uptown that evening. The host has Serafina delivered to her apartment for the dinner: chicken salad, spinach-with-goat-cheese salad, a margherita pizza, and a mini-slice of Nutella pizza make its way onto my plate and into my stomach. Before I go, the host manages to get me to try one of her fresh-baked homemade chocolate-chip cookies. I may have had two.
Monday, May 2
I have a no-foam almond-milk latte with brown sugar at Laughing Man on my way to Pilates with my sister. After class, I pop by Yorganic for an oatmeal with bananas, walnuts, and brown sugar. I'm in production today (we still handmake all our jewelry in New York), so I eat over a bed of crystals, metal, and chains — it's really glamorous.
I pick up rosemary-and-lemon chicken over brown rice, a side of kale salad, and roasted sweet potatoes from Sweetgreen. I have a ginger lemonade to drink, but it's really sweet, so I pour a little into my water bottle and water it down. I leave production around 6:30 and snack on a bowl of cereal — this time it's Frosted Flakes mixed with Special K and bananas.
At 7:45 p.m., I meet my friend Chiwetel before he heads back to London at Ballato's. We both have red wine and I order the grilled-octopus appetizer and spaghetti marinara. I have one more glass of red wine around the corner. The bartender brings us out risotto croquettes as a gift, and I can't resist.
Tuesday, May 3
I grab a coffee with milk at the deli downstairs because I'm late to boxing. For breakfast, my sister and I go to Gotan and share an oatmeal with poached fruit and the shakshuka special. I love that place. I have back-to-back meetings at our showroom, so I order a Hale and Hearty tuna sandwich.
Later that afternoon, I pick up Starbucks: a no-foam soy latte, an oatmeal with the works, a rice-crispy treat, and a banana. Jodie and I have an afternoon business meeting at 5 p.m. with a liquor company, so I have a margarita and a few sips of a "designer" cocktail. We get last-minute tickets to Hamilton, so we don't have dinner. Instead Jodie, my brother-in-law, Greg, and I grab Pringles and sparkling water during intermission. After Hamilton, I come home and have a bowl of Pops-Special K-Frosted Flakes cereal, and I make scrambled eggs with Jarlsberg cheese and hot sauce.