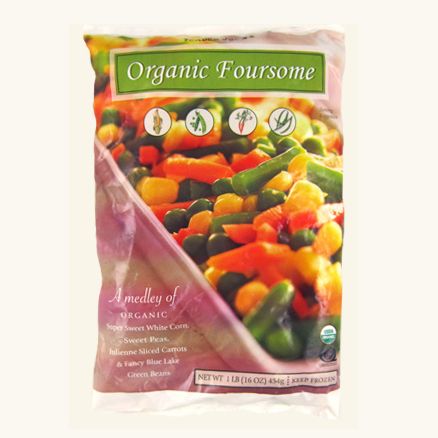 Trader Joe's Organic Foursome is on the do-not-eat list.
Photo: Trader Joe's
CRF Frozen Foods, a company that cranks out a suddenly alarming amount of the country's frozen fruits and vegetables, has issued a recall of epic proportions after discovering listeria at a major production facility. The company stresses the move's simply precautionary, but it nonetheless contains a staggering 358 products sold under 42 different brand names. The FDA reports that at least seven people have been sickened by this particular strain that was traced to CRF's Pasco, Washington–based plant, and the recall extends facility-wide, covering every frozen fruit and vegetable product manufactured or processed there, the company says.
Trader Joe's appears to be the most prominent supplier, but the myriad other affected brands — too many to list, really — include Organic by Nature, the common store brand Parade, some frozen Panda Express veggies, and private labels for Walmart, Costco, Safeway, and others. Not terribly reassuringly, the company also says the manufacturing process may have become tainted as far back as 2014. The recall therefore stretches to products with sell-by dates between April 26, 2016, and April 26, 2018. The complete, very long list is available over on the FDA's website.
[NBC NY]