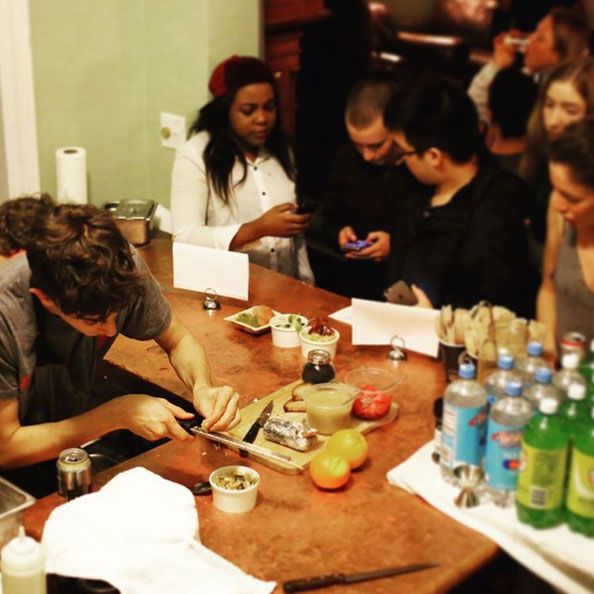 Reider in action.
Photo: Jonah Reider/Instagram
Columbia senior Jonah Reider may have skillfully spun his relaxed dorm-room "fauxsterant" into a Colbert appearance and a 1,000-person wait list, but like many a Manhattan eatery before it, Pith was ultimately no match for the lease agreement. Today's Wall Street Journal breaks the news:
Jonah Reider, the Columbia University student who parlayed his supper club Pith into a local curiosity and coveted reservation, has been asked to leave the university-owned apartment where he lives and works.

"I am writing to inform you that I will terminate your sublease effective May 31, 2016 per Columbia Housing's instructions," said his landlord, a professor, in an email late last month to Mr. Reider, with a school administrator copied. "Ongoing issues that have been relayed to me by the university have made this necessary."
The professor's message vaguely cited "conditions hazardous to all tenants in a faculty building," but Pith's incredibly democratic nouveau-American tasting menu was probably running on borrowed time from the start. He had to cook in the floor's common kitchen, he barely broke even each night, and the atmosphere was chez Columbia's Hogan Hall. The Journal mentions the school had started getting heat from the Health Department — something about how, apparently, dorm kitchens can't be used to conduct commercial restaurant activity. It also sounds like faculty were quick to praise the idea of a pop-up dorm supper club in their midst, but then passive-aggressively suggest Reider "please find a new place."
He's got plans to squeeze service in for a few more people on the wait list, but adds that it's finals time, and "anyone who wants to come because it's in a dorm is not coming for the right reason" anyway. The in-demand chef graduates in May and, like all New Yorkers, tells the Journal he hopes to move into "a large New York City apartment that is 'underutilized,' like a pied-à-terre," and tap into the sharing economy by bartering his skills for part of the rent.
[WSJ]