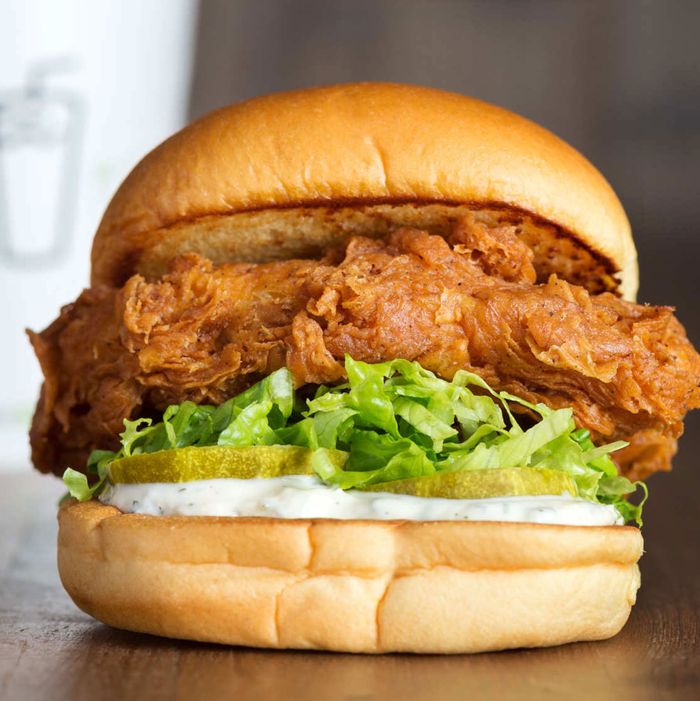 Un-clucking-stoppable.
Photo: Evan Sung
Shake Shack posted earnings yesterday for the first few months of 2016, and it's very clear the chain is "off to a strong start to the year," CEO Randy Garutti says, thanks largely to January's Chick'n Shack rollout nationwide, plus the still dizzying pace at which it's expanding. The Shack empire actually hit 88 locations this past quarter — including a big push out West that involved California's first outpost — and Bloomberg reports the growth alongside the "long-term game changer" this sandwich is proving to be led to more traffic that, in turn, resulted in per-share profits 63 percent higher than analysts had projected. Same-store sales were likewise up by nearly 10 percent, basically twice their estimate, and overall sales rose 43 percent, to $54 million. That led Shack's internal team to also up the forecast for the remainder of 2016; it now predicts sales profits of $249 million on the year.
Of course, burger lovers haven't been completely forgotten about: Garutti also told investors that they'll soon be releasing the Bacon Cheddar Shack, a limited-time offering with the winning combo of strips of bacon and aged-cheddar cheese sauce.