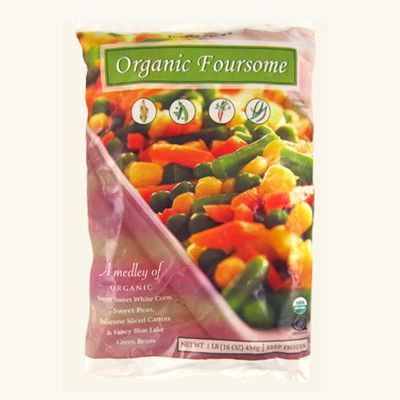 One of about 400 things you maybe forgot is in your freezer.
Photo: Trader Joe's
The CDC has a message for lazy American consumers: The recall CRF Frozen Foods issued two weeks ago didn't make listeria-infected items magically vanish from freezers. Officials basically tell the AP today that they understand people are busy and forgetful and whatnot, but they need to take time to dig past the ice cream and frozen pizza to see if any of the literally millions of recalled packages are hiding out. The do-not-eat list now numbers "well over 400 products" in all 50 states plus Mexico and Canada, making the recall a top contender for craziest in recent memory, but the trickiest part is the giant window of time involved — the bad items stretch all the way back to May 2014, and frankly amount to more than media can really list in full. (The FDA of course has all of them.) It's possible, in other words, that consumers forgot they even bought that bag of Organic by Nature peas or Costco stir fry.
It's worth pointing out that products were sold at stores almost everybody has shopped at in the last two years — besides Costco, affected retailers also include Trader Joe's, Walmart, Kroger, Safeway, Target, Meijer, and Piggly Wiggly. CDC officials note that if veggies were contaminated but cooked before being eaten, that should kill the listeria, but they're also quick to add listeriosis "always makes us worry because it's such a serious infection." So far, eight people have been gotten sick, and two have died.
[AP]