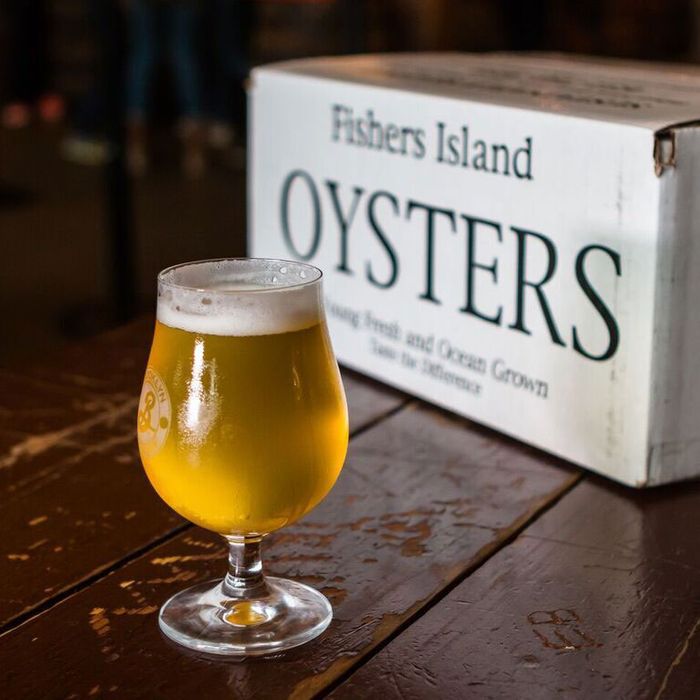 Thirsty?
Photo: Courtesy of Billion Oyster Project
Brewing beer with oysters is today a somewhat lesser known way of adding flavor to suds, but it's been done in oyster-loving, beer-drinking places like Ireland for almost a century. Typically, the beers have been stouts — the minerality of the bivalves complements the style's natural richness — and as the method has received renewed attention, that's the direction craft brewers like Harpoon, Upright Brewing, and Flying Dog have gone in. Now, Brooklyn Brewery has collaborated with the Billion Oyster Project on something a little different: the Billion Oyster Saison.
Brewed with whole bivalves from New York's Fishers Island Oyster Farm, it's a beer you should feel better drinking. The Project is dedicated to restoring oysters to New York Harbor, which biologists estimate once contained half the world's oysters, and is an organization definitely worth supporting. The beer will debut on May 19 at this year's Billion Oyster Party at Pioneer Works in Red Hook. (New York Magazine is a media partner in the event this year.) Along with Brooklyn Brewery, there will be other beverage makers including New York Distilling Co. and Plymouth Gin, bivalves from 45 different oyster farms, and restaurants including Untitled, Bar Sardine, and Grand Army. Following the event, Brooklyn Brewery will make the beer available in a limited number of restaurants. So if you can't make the party, keep your eyes peeled.