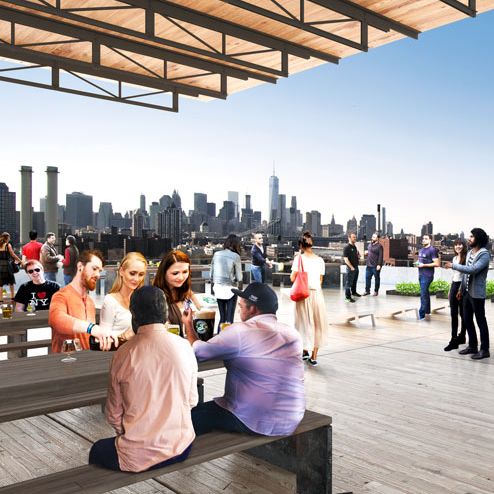 A rendering of the rooftop beer garden.
Photo: Davis Brody Bond
So far, so good for Mayor de Blasio's plan to turn the Brooklyn Navy Yard into a culinary hot spot. Williamsburg's Brooklyn Brewery has signed on to open a 75,000-square-foot brewery and rooftop beer garden in the Navy Yard's Building 77, which is currently undergoing a $185 million renovation, by early 2018. The beer-maker is the latest major player to sign on to the space in a big way. Appetizing institution Russ & Daughters announced plans to open a retail shop, baking shop, and shipping center there back in February, while the Mast Brothers revealed their own deal for a 65,000-square-foot factory last month, and Kings County Distillery just opened a new café, shop, and tasting room at the historic gatehouses. Following the Navy Yard expansion, co-founder Steve Hindy tells The Wall Street Journal, Brooklyn Brewery will continue to operate its Williamsburg space as either a retail shop or brewpub. This isn't the only plan that Brooklyn Brewery has in store: In addition to the Navy Yard growth, the company says it will expand operations to Staten Island.