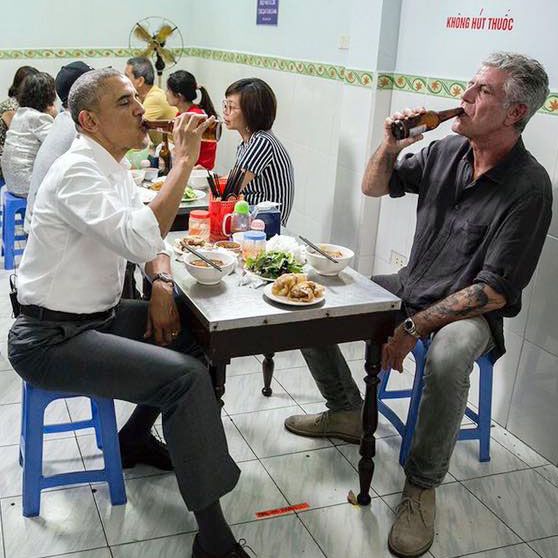 Crushing brews.
Photo: Anthony Bourdain/Facebook
Earlier this week, newly minted buds Anthony Bourdain and President Barack Obama met up in Hanoi for a low-key dinner. Over beers and grilled pork with noodles, at what Bourdain describes as "a working-class joint," the food-world luminary chatted with the president for an upcoming episode of Parts Unknown. And now he takes to the burgeoning List app to lay out six essential facts he learned about Obama:
1. Obama has his chopstick skills down pat.
2. Bourdain calls the president an "Asiaphile" and says he spoke longingly of his time in Indonesia and, most important, its street-food scene.
3. He might dig fancy restaurants like Estela, but Obama also knows how to relax and enjoy a good meal regardless of the vibes.
4. Speaking of which: Local Hanoites were super psyched and even shocked that Obama agreed to a meal at their no-frills, unassuming neighborhood place.
5. He was one of the very few Parts Unknown guests to ask if the crew got to eat as well, then posed for a photo with everyone.
6. The president enjoys a nice cold beer as much as anyone.
[li.st]