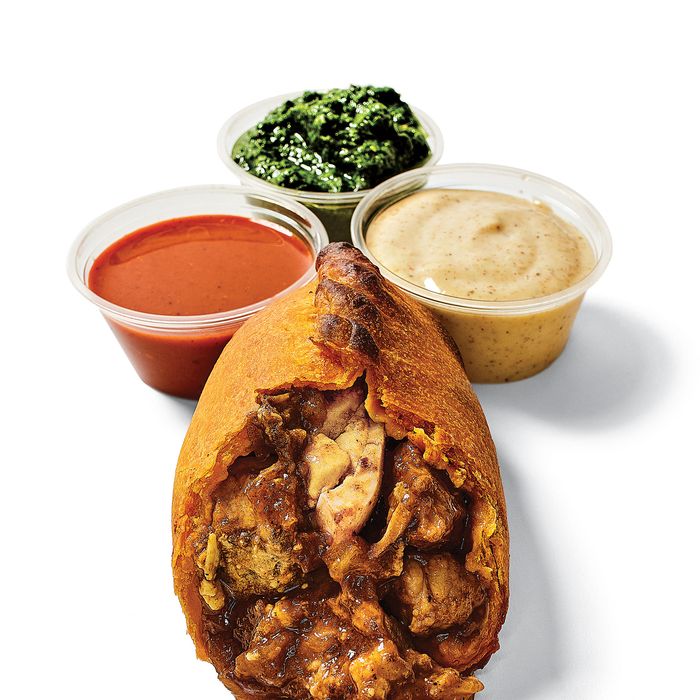 Bolivian Llama Party's triple-pork salteña.
Photo: Bobby Doherty/New York Magazine
In the world of Latin American turnovers, the salteña lives in the shadow of the empanada. The Bolivian-American brothers Patrick, David, and Alex Oropeza, who operate a pop-up called Bolivian Llama Party, are out to change that. They consider the salteña the xiao long bao of South America: Like that famous soup dumpling, it's filled with a gelatin-based consommé that melts as it cooks, yielding a sweetish pastry with a stewy center. For their new location at the subterranean food court TurnStyle, the Oropezas have added a triple-­pork flavor, named for their mother's hometown. How do you eat a salteña? "You bite the tip, let the steam out, then work your way down little by little," says Patrick, the chef of the family. "It's a combination of chewing and slurping."
Mouse over or tap the image to read more.
On the menu at Bolivian Llama Party at TurnStyle; $8; inside the 59th St.-Columbus Cir. station; 347-395-5481
*This article appears in the May 2, 2016 issue of New York Magazine.