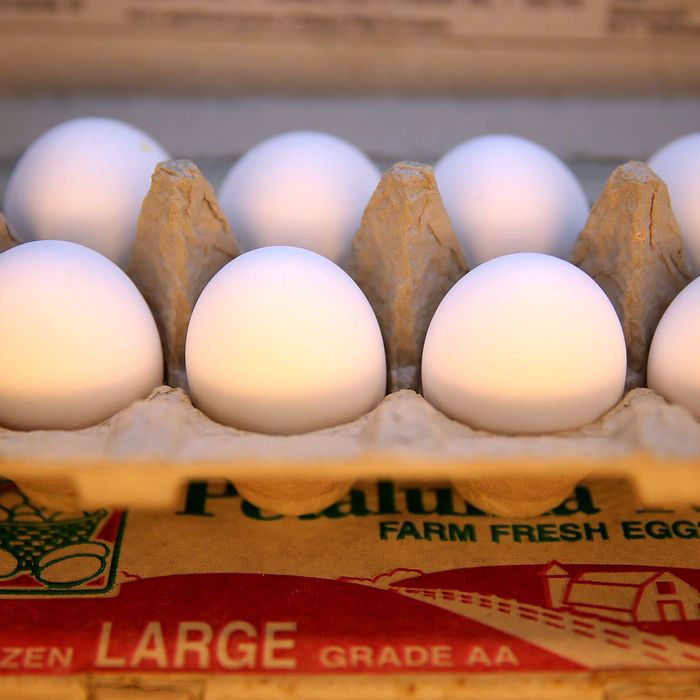 More egg in the face.
Photo: Justin Sullivan/Getty Images
Wily lobbyists for Big Food have convinced the House to introduce a bill that would make their respective industry ad groups exempt from the public's prying eyes. It's essentially their response to last year's embarrassing eggless-mayo fiasco in which the American Egg Board was exposed for waging a campaign to wipe out popular vegan competitor Just Mayo. The episode cost the head of the Egg Board her job, and publicized awkward emails (including one that joked about having Mafia goons pay Just Mayo parent company CEO Josh Tetrick "a visit"). This bill would conveniently prevent ad groups like the Egg Board from having to comply with the Freedom of Information Act, a bedrock tool of investigative journalism requiring the government to publicly release certain documents.
These ad groups — known as "checkoff programs" — are the brains behind campaigns like "Got Milk" and "The Incredible, Edible Egg." They're also overseen by the USDA, even though they're technically paid for with fees levied on the producers themselves. Because they don't get any federal funds, the bill argues the USDA should recognize they're "not agencies of the federal government" and therefore not subject to FOIA requests either.
Also, because it's illegal for these checkoff groups to lobby, they "have no opinion" about this whole matter, and certainly have had "no role or involvement in its request." It's the industries themselves, in other words — the group backing the bill includes the American Mushroom Institute, the National Potato Council, the National Watermelon Association, and the United Egg Producers, among others. But as Fortune points out, trade groups like the United Egg Producers and checkoff groups like the American Egg Board tend to have "significant overlapping membership" and see fairly eye-to-eye on things affecting their industries.
However alarming, the bill is at least quickly gathering opponents. Senator Mike Lee tells Fortune it's straight-up "crony capitalism organized by Washington at its worst." Just Mayo's Tetrick, meanwhile, frets that Big Food will get much better at destroying the competition if these groups are given "the benefits of being connected to and supported by the USDA" without having to answer to the same rules. He says, "It's a symptom of wider things happening in America's food program."