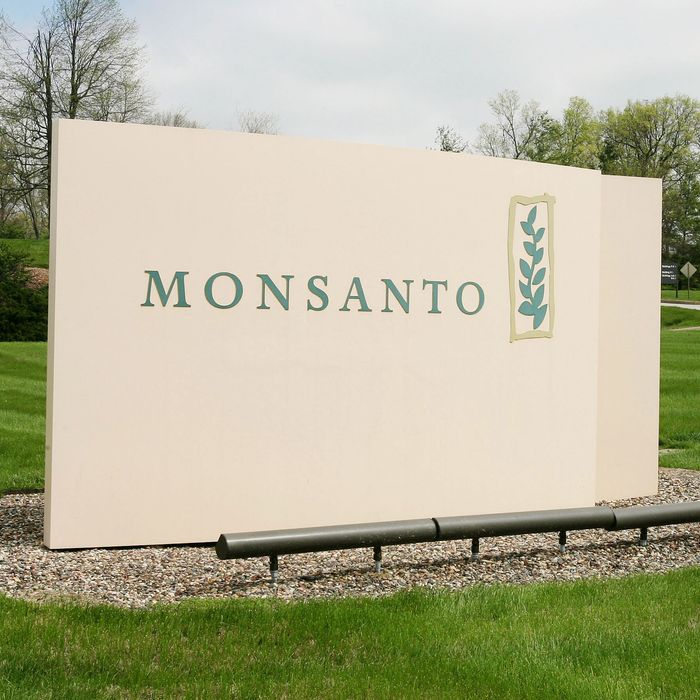 One-stop shop for Claritin and Roundup?
Photo: Bloomberg/Getty Images
The German pharmaceutical conglomerate Bayer has made a $62 billion all-cash offer for Monsanto, a deal that would create the world's largest agricultural supplier. The bid, made by new CEO Werner Baumann, who's only been on the job for three weeks, would value shares at $122 apiece, a 37 percent premium on Monsanto's stock price, and the merger is just one of several afoot right now in the agrochemicals industry (the others being Dow Chemical and DuPont and Syngenta and ChemChina).
If the two companies combine, genetically modified seeds, pesticides, and other ag products would become half of Bayer's business at a time when public opinion about those things is pretty low. Not to mention, of course, that Monsanto was one of the planet's most controversial companies, long before the current debate over GMOs — it's who the world has to thank for Roundup, bovine growth hormone, and Agent Orange, and is almost always being sued for something. The deal could put a lot of money in Bayer's pocket, but apparently not all investors absolutely love the idea of a merger, either; one of its biggest shareholders blasted it as "arrogant empire-building." Bayer is best known right now as a drug company that sells you aspirin, which is actually perfect in the event the buyout gives the new owners a massive PR headache.
[WSJ]