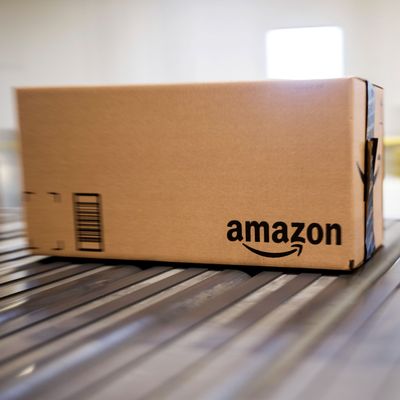 Amazon will launch several brands.
Photo: Michael Nagle/Bloomberg Finance LP/Getty Images
Amazon couldn't stand everyone else getting their own cool meal-delivery kit, but apparently that's not the only new push it wants to make into the food world. The company will reportedly launch several new lines of private-label brands with an emphasis on food and household items and a potential lineup including baby food, coffee, cooking oil, nuts, snack foods, spices, tea, and vitamins. Not everyone will be able to order these products, though, which will only be available to Prime members; the items — sold under names like Happy Belly, Wickedly Prime, and Mama Bear — could arrive as soon as the end of the month or early June.
While this isn't Amazon's first foray into private-label lines, it is the company's first big move into the perishable-foods market. The news shouldn't come as a big surprise to those who pay close attention to the retailer, which apparently has been working on the lines for several years and recently applied for trademark protections for a variety of foods including potato chips, chocolate, pasta, and granola. Certainly it helps round out Amazon's food offerings, which beyond the pending meal kits also include booze and grocery delivery in select markets, and could help position it against Whole Foods' private-label-hawking, robot-powered 365 chain.
[WSJ]