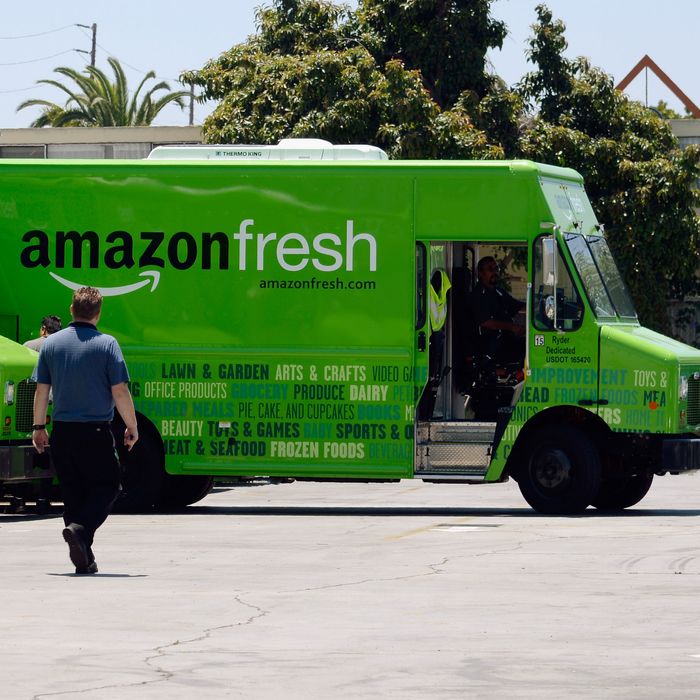 The ready-to-cook meal deliveries start in the fall.
Photo: Kevork Djansezian/Getty Images
Maybe because Jeff Bezos feels a little left out or something, Amazon is planning to roll out its very own meal-kit delivery service this fall, making it yet another competitor in a field that already includes the billion-dollar efforts of Blue Apron, HelloFresh, and now, for some reason, also the New York Times. The company says its Amazon Fresh delivery trucks will do double duty and drop off these recipe kits, too. The service is also being done in partnership with Tyson Foods, which explains the somewhat off-putting, TV-dinner-esque name they chose: Tyson Taste Makers.
Business Insider says Tyson CEO Donald Smith talked about the venture on an earnings call Monday. The giant meat company thinks that by combining Amazon's e-commerce prowess with Tyson's prolific factory farming, their line of "chef-inspired meal kits in premium proteins" will be a real meal-kit force to reckon with — one maybe consumers will even be able to order via Amazon Dash button, if they get really lucky. In his remarks, Smith already set a pretty high bar for what customers should expect from these upcoming kits: "We'll teach them about the cuts of meat and where they come from. We'll help pre-cut, trim, dry age, smoke, marinate, and do the prep so all they have to do is cook it. And then we'll inspire them to explore and cook with ingredients that they may have never used before."
[BI]