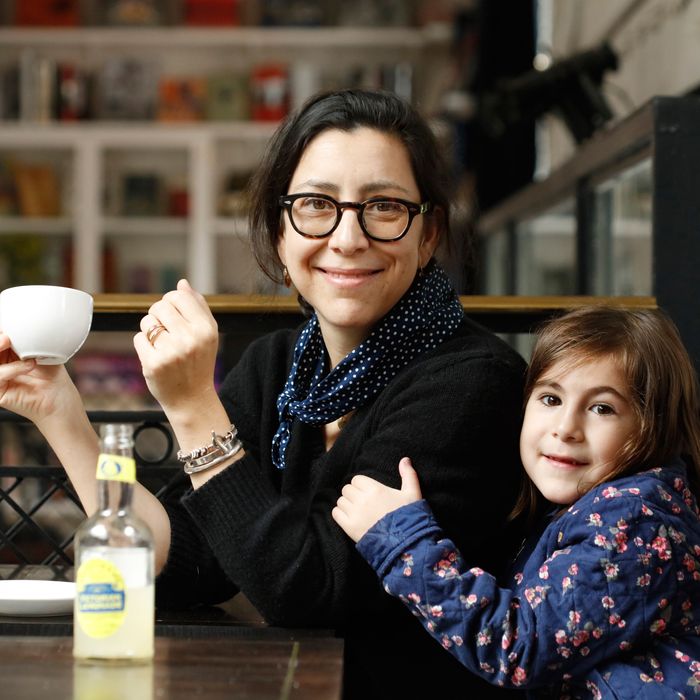 "I make blondies for my kids' school, and I have to taste, of course."
Photo: Melissa Hom
These days, chef Alex Raij juggles four restaurants (El Quinto Pino, Txikito, La Vara, and her newest, Tekoá, all of which she co-owns with her husband, Eder Montero), two children, and the responsibility of hosting a major event this Sunday — Txikifest, a ticketed street fair that will unite more than a dozen major New York chefs. As such, she grazed for many of her "meals" this week, sampling cheese curds at the Greenmarket, snacking on Pocky while watching a movie at the Metrograph, and taste-testing chorizo de bellota on the line. But Raij did get to sit down and properly enjoy Mother's Day with her favorite bowl of pho (at Cong Ly), and had a feast at Mission Chinese Food — after which she used the leftover tea rice to make arroz con pollo. Read all about it in this week's Grub Street Diet:
Friday, May 6
I'm not a breakfast person, but when I do eat it, it's usually my kids' leftovers that I eat on my way to the dishwasher. I pop a piece of my son's pork chop before the rest hits his lunch box — the sort of gristly edge he wouldn't eat, but I love.
I have a microwaved-coffee ritual: a combination of Bustelo, Cafe Grumpy, and Irving Farm's blend, made in a ten-year-old Bialetti. We make coffee fresh every day, but we also microwave some in a mug from the day before and roll that over. I take a shot of Health-Ade kombucha, which takes the fur off my palate. Grapefruit juice does the trick, too.
At 1 p.m., I eat a Tate's cookie. I don't have such a sweet tooth, but Tate's are so salty that they really hit every taste bud, and I can't eat just one! It's my kind of cookie. I'm not a chewy-chocolate-chip-cookie or a warm-cookie girl. My kids often want shitty cookies, like Golden Oreos, and I say, "Sure," since I know I won't be drawn to them, and they will last for weeks instead of minutes, like Tate's.
I go to the farmers' market at 2 p.m. I sample radishes and eat cheese curds. I buy the spinach and mizuna from Norwich Meadows. I love the market on a rainy day. There are deals, and everyone there is super nice. Colors are beautiful, too.
I stop at the Hot Bread Kitchen stand. My favorite thing they make is the Moroccan m'smen. Cannot get enough. The m'smen reminds me of my friend Heather Carlucci's paratha at Lassi back in the day!
I'm at Txikito cooking at 4:45 p.m., tasting squid in ink, and by 8 p.m. I'm trying a new fish-fry recipe. I eat a blowfish tail and leave Txikito for the night after tasting the trim bits that fell off a walnut cake we're making for Mother's Day at Tekoá. I go to drop off some stuff at La Vara and Tekoá, and taste a few fried artichokes off the La Vara line. I drink a bit of Eder's gin-and-tonic.
At 11 p.m., I have a late-night scramble with arrowleaf spinach, pastured eggs, and surimi eels (which we keep in the freezer for my daughter), split with Eder, with some three-year-old fancy sriracha I got at an event. The jar says "Love Hard, Inc." It's awesome stuff, especially because mine is jar-aged and it keeps getting better, but the corporate name just makes me laugh so hard. It's sort of the gift that keeps on giving.
Saturday, May 7
Thank God it's Saturday and I don't have to rush to school. Awakened by the Mad Hatter, Cheshire Cat, and Alice in Wonderland imaginary play-jumping down the rabbit hole. Peel out of bed and nuke the last bit of yesterday's coffee just to have enough energy to make today's.
At 8 a.m., I eat bacon and eggs off my kids' plates and swig kombucha. I make and drink sparkling lemonade from my SodaStream to the Édith Piaf soundtrack.
It's not easy, with the kids. We have a lot of help, basically. We have an amazing babysitter. It's expensive, for sure, and there are times when, yeah, I feel like I disappoint my kids. And sometimes we do the math, and we're making negative money. But we have to do it, because our businesses require it at that time. We have to be mindful of the fact that when we have the choice to be at work or not, we choose not to be. When we're staffed, we get to go home and eat with our kids.
At 2:30 p.m., I take my daughter to capoeira — a noncontact martial arts — where we both are treated to corn nuts and black licorice, and I have a bite of an almond bar on the way out. They always reward the kids with snacks.
We have an early 5:15 dinner at Mission Chinese, where there is already a line around the block: koji chicken, brisket with broccoli, tea rice, green-tea noodles, mapo tofu, and a glass of sparkling wine that did not go great with what I ate. I should have ordered beer.
At 6:45 p.m., I take a bite of my son's ice-cream sandwich from the truck parked in front of my apartment. At 7:30 p.m., I eat popcorn during the new Star Wars movie.
Sunday, May 8
Bustelo blend coffee and a kombucha shot. No breakfast — I always feel super bloated after eating Chinese food, and, well, I ate a lot.
At 11 a.m., I have matcha-tea Pocky that I pry from my son's hands at the Metrograph, and I taste their lemon soda before the movie.
We have a late Mother's Day lunch at Cong Ly, our favorite Vietnamese place on Hester, after some park time, and I shared with Maayan pho soup. When I was pregnant with Maayan, I had pho every day for the first five months. Cong Ly's is pitch-perfect, and the kitchen is impeccable. Eder worked brunch so I could hang out with my kids! Amazing husband and dad.
At 3 p.m., I take the kids to that rolled-ice-cream store. It's better than I thought, but dang, it takes forever! Ever wonder what lychee-Oreo ice cream tastes like? Surprisingly delicious, even though it sounds revolting.
At 7:30, I come home and make some kitchen-sink arroz con pollo using leftover tea rice from last night. It actually rocked. I also make a spinach salad with arrowhead spinach from the Greenmarket. The wilted spinach is so sweet. I make blondies for my kids' school, and I have to taste, of course.
Monday, May 9
Microwaved day-old Bustelo blend followed by fresh Bustelo blend and a kombucha shot. I start the day off wrong, with blondies.
At 11:45 a.m., at the Greenmarket, I taste goat feta and Jerusalem artichoke at Lani's Farm. The roots, which I had never tried, are better than the main event, actually. Jerusalem artichokes can be a bit cloying, and the roots have a little more freshness. I try collards braised and mixed with boiled peanuts.
I get home home around 7:30 and eat a couple of slices of salami, some breadsticks, and a bit of Lucien's pork chop. At 9 p.m., a yogurt.
Tuesday, May 10
Bustelo-blend ritual continues, along with a couple of oat squares before loading the dishwasher.
At 9 a.m., at Tekoá, I have a proper cortado and "pancake" — our signature baked thing. I eat all around the edges thinking I can actually control myself, but of course I finish it in the car on the way to Williamsburg.
I'm in the Vice test kitchen at 11:45 a.m. I walk through their garden tasting herbs, and apparently some poisonous plant not meant for eating that looked like carrot tops. I make and taste some riffs on garlic soup with torn salt cod, a butter-lettuce salad, and trout from my new cookbook. I also eat some radishes with leftover anchovies and butter.
I'm back at Txikito at 3 p.m., eating Basque white beans. I taste some Fermin Ibérico products that we are going to serve at Tekoá — the new chorizo de bellota wins out after I eat many slices. I taste some lima beans, too.
I come home and have a glass of Odwalla's Superfood drink and remember my Seattle days in the '90s. I still like this stuff.
Wednesday, May 11
At 10:30, I meet with my architect, Bo Lee, to check out lighting at Matter, my favorite design store that I discovered after frequent visits to Despaña across the street. I stop at Maman around the corner for an iced hibiscus tea.
I run up to the design district to check out fabric for our dining-room table seating, and I eat one Hersey's kiss out of a bowl. When I leave, I'm in a food wasteland, so I buy a banana from a fruit guy.
I walk to Kalustyan's for spices for La Vara and eat some Turkish pistachios (the best). I buy a couple of loquats, which I haven't had since last year at this time.
I'm back at Txikito at 3 p.m., testing the dog we are working on for PDT. I'm kind of obsessed with sandwiches, and hot dogs and hamburgers are no exception. It has to hit all the criteria: It takes me four tries to get it right — and we're debuting it at Txikifest this Sunday.
I have a gin-and-tonic, which I can only drink in Spain and in my restaurants, which is a palate cleanser. Then I go to hang out with my kids!