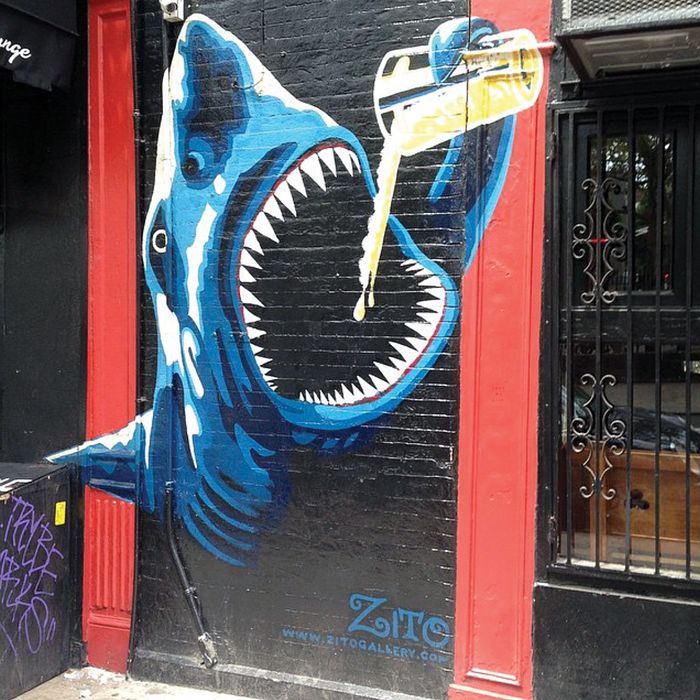 A mural outside Spring Lounge in Nolita, one of the city's best dive bars.
Nearly every second of my free time over the past few months has been spent sitting in a dive bar, or playing pool in a dive bar, or talking to a bartender at a dive, or chatting up regulars at a dive, or even reading books about dives. That's because I'm the person who volunteered to visit, and rank, New York City's roster of dive bars. College-age me would be impressed by how much PBR I was able to charge to an expense account, but she would also be surprised by the low-grade hangover that lingered for months while I was reporting the list.
In the end, the story ended up ranking the 50 best dive bars. But to know which 50 were best, I had to visit many more. During one stretch I visited 21 dive bars over the course of 36 hours. Roughly speaking, I've been to 150 different dive bars since mid-January. You might think that would have dispelled me of the notion that dives are inherently romantic, that these bars, their staffs, and their customers are essential and loving and necessary to the fabric of the city. But so many bars — and about a zillion tallboys — later, that romanticism has only been heightened.
Some of the things I saw were disheartening, sure. Like the 20-somethings at Tip Top making paper airplanes out of actual cash. Or the other 20-somethings next to them, feeding the jukebox while offering the opinion that the Fugees "are so fucking sick." But mostly I saw joy, and heart, and no-pretense bars that were thriving.
Lots of people feel similarly about dive bars, and after reading the list they might be asking where their favorite dive is. We aimed for geographic diversity here, and there are bars on this list that are definitely worth a trip to the Bronx and Staten Island. Other bars were left off because, while they're terrific, they've become overly fetishized: Johnny's Bar, Montero's, 169 (a personal favorite that is simply overcrowded these days — on weekends there's an actual line to get in). We also left off Sunny's in Red Hook, whose rightfully sainted owner died recently. The charm of dives can be so temporal, and Sunny's on a Saturday night these days is filled with 25-year-olds looking for the experience they heard happened there in the late '90s. It's a dive that at times feels inherently un-divey.
Also missing are some newer dives that might need a few more years of grime, but which we love all the same: Rocka Rolla in Williamsburg, and Old Stanley's Bar in Bushwick. Casablanca Cocktail Lounge, Clockwork Bar, and Boobie Trap all fit that description, too.
Surely some might disagree with the final list, but I hope it can be a checklist of bars to visit that can also serve as gateways to various neighborhoods around New York. Most important, though, I hope you treasure these dives, all of which I wish could be landmarked. There are signs at Billymark's, our choice for the best dive in the whole city, that command visitors: "Love this bar." And you should love all these bars, before they move, or close and become another dumb bank. Just make sure you give yourself some time to hit them all.