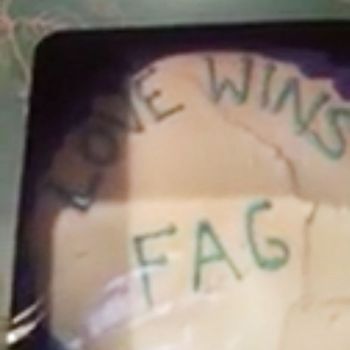 Customizing store-bought cakes can be a great way to surprise people, whether it's Grandma for her birthday, or a guy who expected to shop at his local Whole Foods without encountering discrimination. Jordan Brown, an openly gay pastor who runs an LGBT-friendly church, says he asked the bakery at the grocery chain's Austin flagship store to write "Love Wins" on an otherwise-standard pre-frosted cake. When he picked it up last week, he claims the decorator had taken some artistic license with the blue icing, and added a third word:
"When I got into my vehicle, I looked inside and saw that they had written 'Love Wins Fag' on there," he explains in the YouTube video, panning down with the camera to show the unbroken seal and adding: "As you see, I have not opened up this box yet." Brown says he talked to a store manager who was "extremely apologetic" at first, but that the offer to replace the cake and give Brown a gift card became suspect when the manager requested that they just "handle this internally." Brown claims that two hours later he got a call saying the store had looked into the incident, and "no action would be taken" because the management had concluded that the employee didn't write the awful word after all.
Brown says the experience was "extremely offensive and humiliating," plus a little confusing because he maintains he didn't say anything to the employee about being gay. He filed a lawsuit against Whole Foods yesterday, and the company has in turn dug its heels in even more. It gave this statement to the Austin American-Statesman:
Our team member wrote 'Love Wins' at the top of the cake as requested by the guest, and that's exactly how the cake was packaged and sold at the store. Our team members do not accept or design bakery orders that include language or images that are offensive. Whole Foods Market has a zero-tolerance policy for discrimination. We stand behind our bakery team member, who is part of the LGBTQ community, and the additional team members from the store, who confirmed the cake was decorated with only the message 'Love Wins.'
Brown's lawyer, Austin Kaplan, calls the company's statement "outrageous," and adds that they can't even get Whole Foods' corporate or legal office to respond to them. "My client doesn't have blue icing in his house" he says, adding: "It's all the more frustrating and disappointing for this to happen with a company that professes to have the kind of values of inclusion, equality and tolerance that we share."
Update: The pastor admits he made it up.