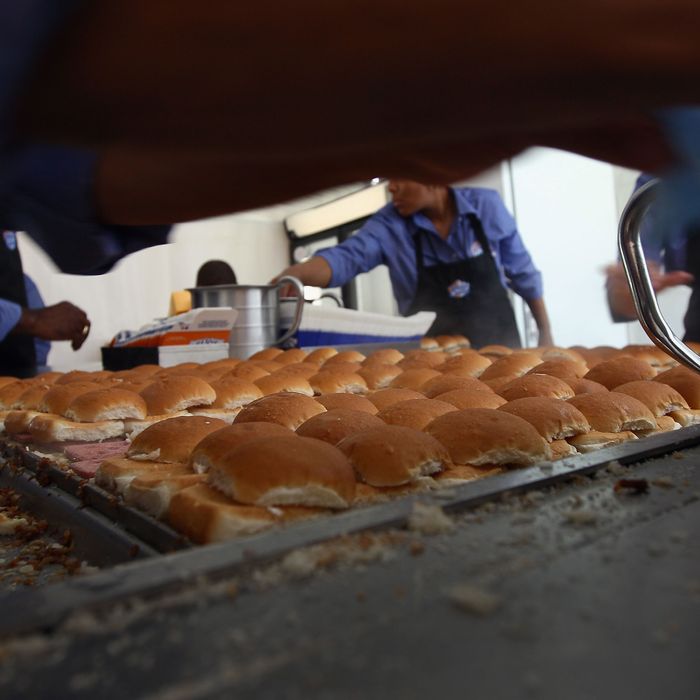 Likely craving better wages.
Photo: Win McNamee/Getty Images
Every month or so, a new fast-food executive must assume the duty of talking to CNBC or another sympathetic outlet and catastrophizing New York's $15 minimum wage. For April, looks like the job fell on White Castle, whose vice-president, Jamie Richardson, gave National Review the standard set of Chicken Little gripes about the looming wage hike, but then went a step further by also saying that the chain will probably respond with price hikes of its own. Under the agreement Governor Cuomo reached with legislators last week, the minimum wage will climb to $15 by 2018 in NYC, and get a softer phase-in elsewhere statewide. White Castle runs about 50 New York locations, many in the NYC metro area. Richardson said:
If labor costs rise dramatically, White Castle will have to balance its books by raising prices or changing its business model so that it needs less labor.

"Is there any room to raise prices to cover costs?" Richardson muses. "We think we'd need to increase menu prices by something like 50 percent. It's not something we've done before. It'd be catastrophic."
He tells National Review this raise "through fiat" will put the entire industry in "uncharted waters." It's a problem because White Castle knows sales drop if menu prices increase even slightly, which some might argue implies it's time to make higher-quality food, but the bottom line is raising prices to cover increased labor costs isn't ideal, regardless. Richardson tries turning this into bad news for "a whole generation" of poor kids who apparently won't be able to rely on White Castle anymore for a job, adding: "There is a better way to get people out of poverty than hiking the minimum wage." Maybe that sounded more logical in his head, but so far the two best options fast-food suits have thrown out seem to be keeping wages at the status quo, or replacing human workers with cheap robots literally incapable of complaining.
[NRO]