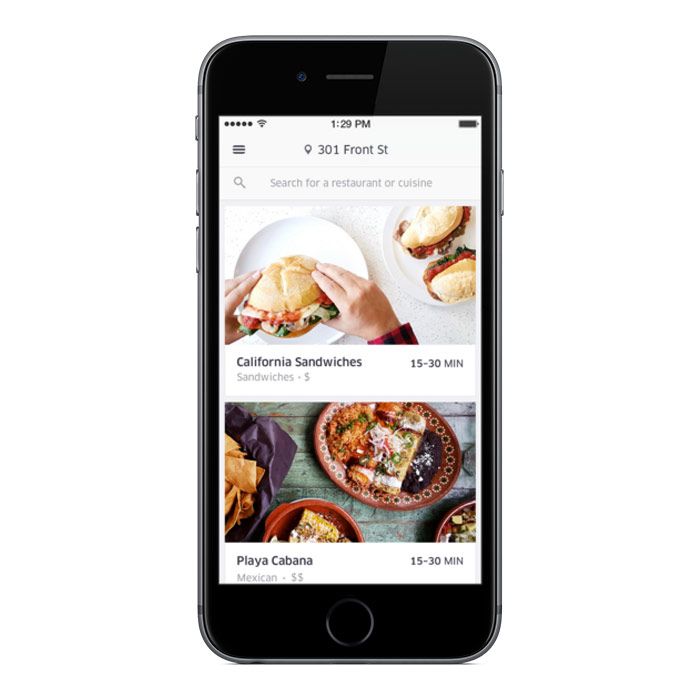 A smidgen less on-demand.
Photo: UberEATS
It's not even 30 days into UberEATs' New York launch and already the company concedes it may have overreached a little. On Monday, it sent app users in the city a somewhat-vague email that said, "In order to bring you the most exciting selection, the highest quality food, and the fastest delivery time, we've decided to narrow our focus. Starting today, 4/18, we'll no longer be offering a daily Instant Delivery lunch menu." Instant Delivery was Uber's lightning-fast, lunchtime-only service that promised users a meal delivered curbside in as little as ten minutes. The two order options varied day to day but included items from places like American Cut, Num Pang, Mighty Quinn's, and Sweetgreen.
As Quartz notes, the inner workings of Instant Delivery were a bit mysterious. To get food to customers in ten minutes, Uber stored all of that day's meals in a building in midtown (that way, deliverers didn't trek to the restaurant first). But figuring out how much to send was apparently the restaurant's responsibility. Uber admitted it wasn't pre-purchasing the food, but rather just letting partner restaurants ship over however much they thought was appropriate each morning. It also wouldn't say how many of those orders deliverers could fill each hour, or at a time.
The company says Instant Delivery is sticking around in every other city served by the UberEATS app, which is another reason to think maybe it saw a flaw in a business plan built around believing New York's bike couriers could get from midtown to, well, anywhere else in ten minutes. The app's more popular use as a Seamless-killer, where customers can order food from more than 100 NYC restaurants in 30 minutes, is totally unaffected.
[Quartz]