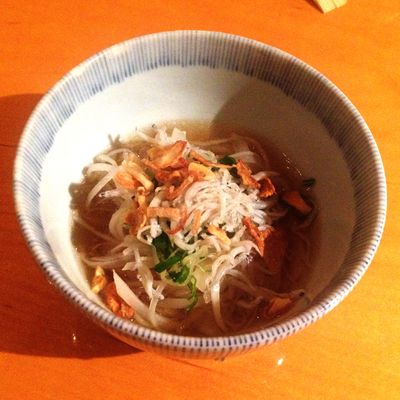 A course from last night's omakase.
Photo: Tom Kretchmar
Call them the disappearing Japanese restaurants of midtown. Already this year, the stalwart Sushi Zen shuttered in February after 33 years, while Saburi, which was the only Chinese-Japanese restaurant in New York and possibly the country, closed last month. Now Tsukushi — one of New York's best spots for late-night food, but also a solid and relatively affordable omakase restaurant — will close on May 27 due to the demolition of the building.
The quiet restaurant is hidden from sight, with an exterior that looks more like an old dive's, and it's through and through an unassuming regular's place. When it was reviewed by then–New York Times critic Peter Meehan, chef-owner Norihiko Manabe admitted he wasn't super into it because he worried "the influx of newcomers might tax his ability to serve the clientele."
The restaurant became popular among Japanese expats and chefs for its late-night menu (10 p.m. on) of Japanese home-style cooking like onigiri, curry rice, and a really good pork ramen that, at $8, is probably one of the best bang-for-your-buck bowls of noodles in town. According to a note signed by Manabe and posted to the restaurant's door, he does plan to relocate Tsukushi. However, a location hasn't been secured yet, and, of course, sometimes these things don't work out. So, it's definitely worth going in the meantime for the daily changing omakase or for an after-hours meal and shochu, at least to show your support for the tentative relocation.