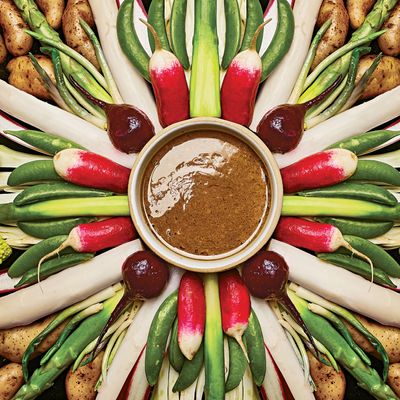 A stylized elaboration of Lilia's bagna cauda.
Photo: Bobby Doherty/New York Magazine
In its original incarnation, the Piedmontese peasant dish bagna cauda, or "hot bath," is an anchovy-garlic-olive-oil dip served fondue style with hearty fall and winter vegetables. It can be dressed up with Alba truffles or have its fishy funk mellowed with butter or milk. But larger liberties are increasingly being taken by chefs who see the recipe more as a flavor profile, a welcome opportunity to deploy umami-laden anchovies (one of cooking's most savory secret weapons) in unexpected ways.
Take, for instance, the bagna cauda "butter" Rider chef Patrick Connolly uses to toast the baguette for his French dip. At Lowlife on the Lower East Side, bagna cauda is but one of multiple assertive garnishes that accompany chef Alex Leonard's hulking bone-in rib eye, along with grated horseradish and a Stilton-based sauce. Mario Batali has been a bagna cauda booster since his Pó days, so it's no surprise the appetizer is a regular presence at Otto, served with cardoons in winter or radishes in spring. He's also made it the highlight of one of two roving bar carts at his new Chelsea ristorante La Sirena, where the room-temperature vinaigrette is refreshed tableside with more olive oil and lemon juice and paired with an icy bronze cup of crudités.
When it comes to bagna cauda ingredients, though, even the anchovy is negotiable: The rendition at Momofuku Nishi involves whole romaine leaves dipped in a warm dressing that substitutes fish sauce for the actual fish and incorporates toasted walnuts, tamarind, and Thai bird chiles. Which isn't to say you can't find a classic bagna cauda in New York. The one Missy Robbins serves at Lilia in Williamsburg is textbook, modeled after the version she ate at a trattoria in Alba down to the delectably melted texture of the anchovies, the sweetness of sweated garlic, and the vegetable-coating richness of the seasoned oil. "It was inspiring in its simplicity," she says. "I'd want to eat it every day."
*A version of this article appears in the April 4, 2016 issue of New York Magazine.