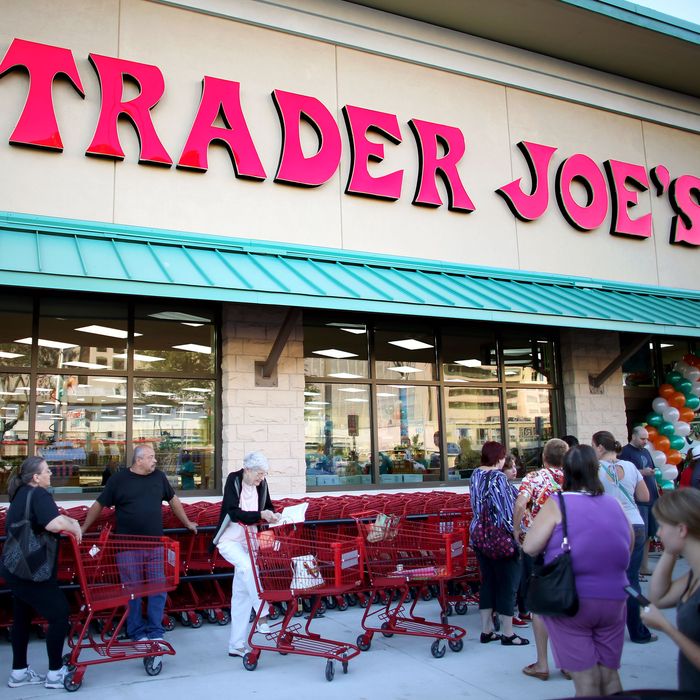 Just stick to a succulent next year.
Photo: Joe Raedle/Getty Images
Trader Joe's is being sued by an employee who says he got fired for complaining about the "humiliating" sex toy he received at his store's 2014 holiday gift exchange. This office party presumably wasn't Paul Roberts's first, as he'd been working at the same Pasadena location since 2007, but he says it was the first time he felt sexually harassed. Baffled by the store's response to the incident, he's now suing the grocery chain for allegedly allowing workplace harassment and then terminating him as payback for making a big deal out of it.
In retrospect, Roberts says co-workers did seem "excited" when he showed up at the party and "anxious" for him to open his gift. But because he contends he was only there in the first place to try and make better friends with colleagues, he took the bait: "Plaintiff opened the wrapped package and was shocked, embarrassed and humiliated to discover that the gift was a small penis with testicles which, when submerged in water, would increase in size." He became "incredibly distraught [at] receiving such an obnoxious and offensive item," particularly, he says, because it came from a woman. He filed an internal complaint afterward, arguing a stunt like that on a female co-worker would've cost him his job, but management allegedly didn't take it seriously, even though the co-worker continued to find her gift humorous. He claims that it took until January for someone in HR to finally inform him his complaint was being investigated, but that, conveniently, the store fired him two days later. He's asking Trader Joe's for an unspecified amount in damages, and maybe a tiny bit more class.
[MyNewsLA]