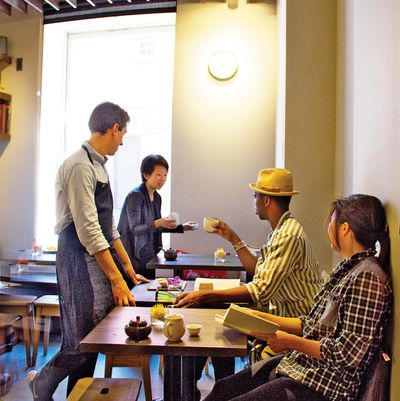 Té Company
Photo: Tirzah Brott/New York Magazine
Tearooms are not known for their food. You've had one crustless sandwich and lackluster scone, you've had 'em all — or so the thinking goes. Well, that thinking became obsolete when Elena Liao and her husband, Frederico Ribeiro, opened their tiny West Village tearoom, Té Company, last fall. Rather than traffic in trendy matchas, Liao made the oolongs of her native Taiwan her mission, sourcing directly from farmers, brewing each pot with laser focus and effortless grace, and spreading the gospel of this overlooked category to anyone willing to listen.
So we hope Liao won't take offense at what we have to say next: Té Company should be a destination for anyone who loves food, serenity, and neighborly spirit, even if a cup of tea isn't his or her cup of tea. This superb snuggery is a haven for contemplation and delectation, and though tea is the theme, it's far from the only draw. Liao and Ribeiro infuse their four-table room with style and true hospitality, extending from the browsing library dedicated to Bonnie Slotnick, whose cookbook shop long occupied the space, to the classic jazz, to the "Té Etiquette" posted in the bathroom ("… please take your phone calls outside. Feel free to text as much as you'd like.").
Its owners say that Té Company is no restaurant, but that doesn't stop Ribeiro from stalking the farmers' market and changing his small posted menu accordingly, or garnishing each intricate plate at his minuscule station behind the counter as if he were still a ninja sous-chef at Per Se.
A Portuguese native who has cooked in Spain, he exhibits a distinct Iberian influence in most of his so-called snacks, which range from sliced chorizo iberico to the tortilla de patata that has become his signature. This is no simple wedge of potato omelette, but a custardy marvel of tortilla technique — the Greenmarket fingerlings finely cut and confited, combined with eggs, then cooked just long enough for the edge to set. It's finished, as many of Ribeiro's dishes are, with flaky sea salt and good Spanish olive oil, and then garnished with colatura-tossed olives and Basque peppers, say, or, on another occasion, a blanket of purple edible flowers that perfectly color-coordinate with the border of the Vista Alegre plate.
Ribeiro makes his own whole-wheat sourdough from Anson Mills flour and charges $5 for it — worth every cent, considering the crisp-chewy crust and cool, creamy crumb. For his tableside take on açorda à alentejana, the Portuguese bread soup, he pours a stream of boiling water into a bowl containing a poached egg, garlic-rubbed toast, fresh mint, and an à la minute pesto of cilantro, garlic, and bacon fat. You think, as with nearly everything Liao or Ribeiro delivers to your table, that it's too beautiful to eat, until you venture a spoonful and discover the clear, pure flavors inhabiting the still life, the punch of garlic and the herbal aromatherapy that rises from the bowl, the surprising heft lent by the bacon fat and bread.
Although Ribeiro doesn't shrink from rarefied ingredients (sliced lobes of poached shad roe with dandelion and horseradish; nuggets of smoked eel buried beneath a wheel of beet tartare), even the simplest preparations excel. An off-menu salad materialized as a mound of baby mustard greens camouflaged by a blizzard of shaved ricotta salata and broccoli rabe flowers, with a cache of toasted walnuts and a bit of heat from a piri-piri-laced dressing. It's a salty, spicy, sweet showstopper, an exaltation of the tender leaves of spring.
And because this is a tea shop, there are sweets: a light, extra-tender muffin (sweet potato currently) and a pineapple-Linzer cookie enlivened with lime zest, yuzukosho, and salt.
About that tea: Even if you're a certified cortado addict, you can't avoid being swept up in Liao's passion. Listening to her descriptions of buds and leaves and fermentation levels and altitudes, and sampling a soothing pot of something light and floral, or more heavily oxidized and toastier, it's impossible not to fall under the sway of both the seductively diverse oolong and the welcoming, unfailingly delicious Té Company itself.
Another lovely spot for those who like to surround themselves with new and vintage cookbooks while sipping tea (or coffee) and tucking into tasty foodstuffs is Archestratus Books & Foods, which opened last fall in Greenpoint. The chief difference between this place and Té Company is that Archestratus is a functioning bookstore, as opposed to a former one, and the cooking is Sicilian Grandma rather than nouveau Portuguese.
The woman who curates the shelves and stirs the pots is Paige Lipari, professional book-buyer (formerly of McNally Jackson) and self-taught cook (she bakes a mean jasmine S cookie). Inspired by a trip to the old ancestral home in Alcamo, Sicily, and a desire to master the recipes of her nonagenarian nonna, Lipari combined her twin passions under one roof, and the results are terrific — like a Kitchen Arts & Letters with an actual kitchen.
The shop, with its 4,000-plus food-themed books, from all the of-the-moment Ottolenghis to fun classics like Peg Bracken's The Compleat I Hate to Cook Book, is a bustling social center and a browser's paradise. Every time the Underground Gourmet stops by for a cookie and a quick look around, we get sucked in by some fascinating title, like Alain Passard's The Art of Cooking With Vegetables, with his own illustrations, or some superb kitsch like Paul Newman's 1985 opus Newman's Own Cookbook (sample celebrity-pal recipes: Robert Redford's lamb chili, Tony Randall's veal chop, and Gene Shalit's spaghetti carbonara).
All that perusing can work up an appetite. During the day, you can satisfy it with one of Lipari's excellent baked goods (try the mortadella biscuit, or a pistachio-lace cookie). But on Thursday nights, Lipari goes all out and hosts her Sicilian "blue-plate special" dinners in the café space opposite the open kitchen at the back of the store.
The menu varies depending on the mood of the cook. One winter evening, it was a hearty slab of lasagna with meatballs, house-baked focaccia, and broccoli rabe, and, like Sunday supper at Grandma's, it hit the spot.
Once a month, the blue-plate specials give way to personal-pizza night, which has become so popular Lipari sets up additional communal tables between the bookshelves. You choose up to ten toppings from a list of 24, which makes anyone who selects plain old tomato and mozzarella a bit of a party pooper. The winning combo at our table the other night was potato, fig, Gorgonzola, honey, and peperoncino. The potatoes were softly cooked, the figs and honey nice counterpoints to the salty cheese. If the crust was a bit stiff and overly crunchy, it was still the best pizza we've ever had in a bookstore.

Té Company
163 W. 10th St., nr. Seventh Ave. S.; 929-335-3168
Prices: $5 to $16.
Open: Tuesday to Sunday, but currently closed until May 7.
Ideal Meal: Tortilla de patata, trout-roe-and-kombu toast, any seasonal
salad.
Note: Ribeiro cooks a monthly "Dinner at Bonnie's" tasting menu.
Scratchpad: Two stars for the refined seasonal cooking, one for the excellent oolong, and one more for the cozy quietude, impenetrable by even the worst traffic ruckus.

Archestratus Books & Foods
160 Huron St., nr. Manhattan Ave., Greenpoint; 718-349-7711
Prices: Pastries, $3 to $6; blue-plate-special dinners, $15 to $20.
Open: Wednesday to Sunday; dinner Thursday only.
Ideal Meal: The menu varies, just like your Nonna's.
Note: A small selection of wine and beer is available.
Scratchpad: One star for the homey Sicilian cooking and the cookies,
one for the winning communal vibe.
*A version of this article appears in the May 2, 2016 issue of New York Magazine