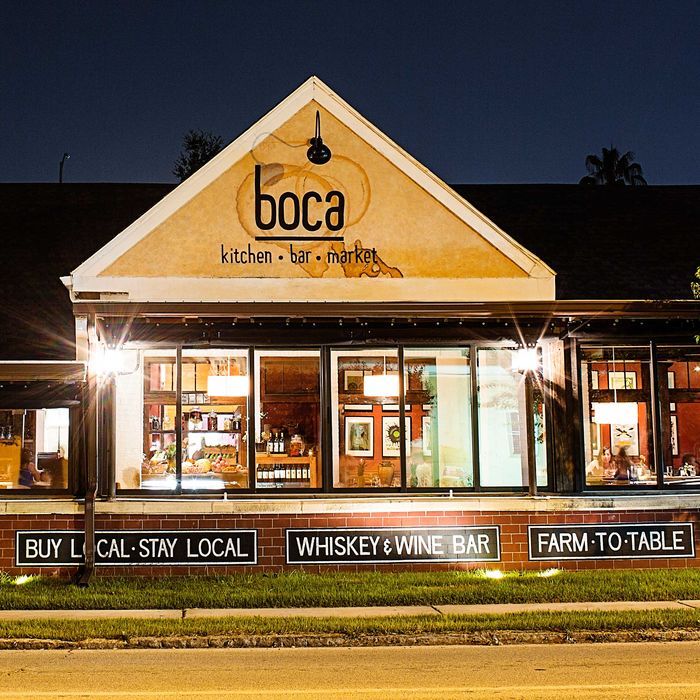 Boca Kitchen Bar is one of the restaurants critic Laura Reiley called out.
Photo: Joseph Victor Stefanchik/The Washington Post via Getty Images
Farm-to-table is mostly fiction. That's the thesis of today's most compelling newspaper story, anyway. Veteran Tampa Bay Times restaurant critic Laura Reiley takes a thoroughly impressive, deeply compelling dive into Tampa Bay's "farm-to-table" restaurant scene and found fraud, mistakes, and misrepresentation across the board. The reality, the journalist writes, is a "fairy tale," sold to consumers who want to feel better about what they're eating, by sometimes-sketchy restaurants that don't mind stretching the truth.
Over the course of two months of reporting, the critic discovered a litany of offenses: a restaurant selling prized "Florida blue crab" that was actually from the Indian Ocean, tilapia being sold in place of grouper, and offenses that go way beyond seafood fraud (which is now depressingly common). Another restaurant claims its quail, pork, and dairy comes from local farms, when it's all acquired from big-time purveyors. One spot's menu boasts food free of "hormones, antibiotics, chemical additives, genetic modification, and virtually from scratch." Its staff touts homemade cheese curds that actually come from a box, and the main ingredient in fish and chips is preservative-treated Chinese pollack being passed off as wild Alaskan. Most amusingly, that restaurant, Mermaid Tavern, sells a "Fuck Monsanto Salad" that supposedly stands against GMOs. But when Reiley contacted the restaurant's wholesaler, the critic learned that "Unless you're buying from Sanwa's small organic section, there's no way to assure you're getting non-GMO. Even some certified organic foods have been found to contain GMOs."
What's so impressive about the story is the way in which Reiley systematically goes restaurant by restaurant, and even chef by chef, confronting them directly on their fraudulent claims for roughly 6,000 words. The most common excuse when an operator is confronted with the truth about their non-local ingredients: The menu is simply out of date and needs to be refreshed. Yet many of the local farmers name-checked by these trendy restaurants say their work is being taken advantage of, and, as one put it to the critic, their names on the menu are "used as billboards" — the restaurants advertise the provenance of their ingredients but often swap them out for something cheaper, ensuring the real farmers don't see any actual benefit. Part of the problem is customers don't want to pay for food that is truly local, but another is that there's very little government oversight: just 191 inspectors for the state's 40,000 or so restaurants.
As you might expect, this problem is definitely not isolated to Florida. San Diego magazine published a similar story last year — also called "Farm-to-Fable" — about similar problems in that city's food scene. Farm-to-table was maybe once an admirable goal, but now it's just a co-opted image used to up-sell stuff that's not any better then what'd you get at a restaurant that admits to using commodity products.