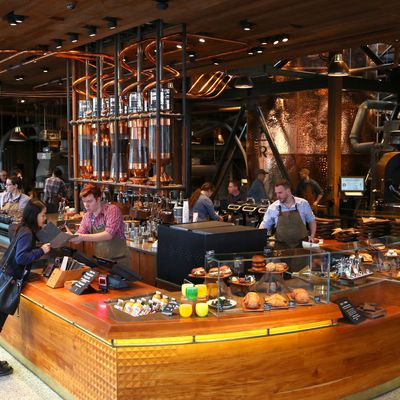 The scene at the Seattle roastery.
Photo: Joshua Trujillo/Starbucks
It's really happening: Starbucks's planned "Eataly-style" coffee center will open at 61 Ninth Avenue in the Meatpacking District, right next to the tourist hot spot the Chelsea Market and Google's headquarters. (Also a few doors down from a Blue Bottle, and right across the street from a current Starbucks shop, which, to be fair, is probably something you could say about 99 percent of real-estate sites in Manhattan.) Expected to arrive in 2018, the center will be located in a brand-new, 154,000-square-foot development, where the new shop will take over 20,000 of the forthcoming building's 37,000 square feet of retail space.
When it opens, the colossal Pumpkin Space Latte emporium will be the first New York location of Starbucks's Reserve Roastery and Tasting Room, a giant wonderland that serves as the company's attempt to surf the third wave back to coffee coolness. The original is in Seattle, and it's safe to assume the Manhattan outpost — the location of which was first confirmed by known coffee expert Oliver Strand — will maintain many of the same design touches, such as a siphon bar, stylish baristas, and huge, gleaming machinery for roasting and grinding. Customers will even be encouraged to interact with (i.e., talk to) the people making their coffee, so the whole giving-your-barista-a-fake-name-to-be-funny trick probably won't go over any better here than it does at your corner shop.
Starbucks clearly wants to go big on this, describing the original Seattle location of its Roastery as "coffee-as-theater" and reframing "what is possible to do within the four walls of a retail environment." Don't tell that to the people who already own New York's best coffee shops, all of whom are already pushing things forward for caffeine lovers.