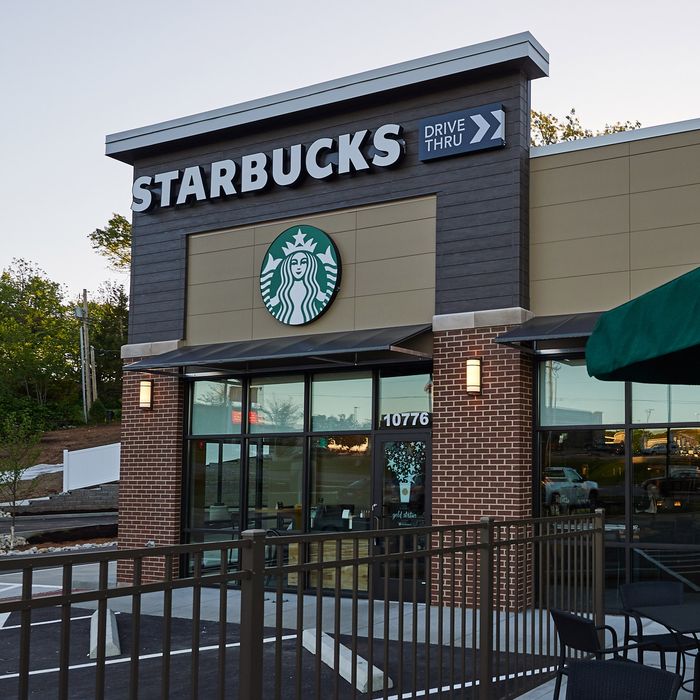 The new location, in the flesh.
Photo: Michael Thomas/Starbucks
So far, Starbucks's various social causes have mostly led to a lot of cringing. Solving racism by writing on cups didn't work out, telling underpaid baristas to "be very sensitive" to angsty Wall Street stockbrokers didn't go over super well either, and a campaign to wipe out youth unemployment likewise fell a little flat. It's no surprise, then, that people had their doubts when the chain said last year that it would help "rebuild and revitalize" Ferguson, at the time still reeling from months of racial unrest, by benevolently giving the town its first Starbucks location. Well, that store opens tomorrow, and as Pollyannaish as cynics argue the idea is, the chain's plan actually isn't such an eye-roller.
The new store is one of 15 the company has pledged to open to fight inequality in low-income or minority neighborhoods. (A somewhat less high-profile location opened last month in Queens.) CEO Howard Schultz has said income inequality is his pet social issue because he grew up poor in New York's housing projects. The Ferguson grand opening comes after almost a year of careful work, and the 30-barista team largely hails from within a five-mile radius of the café and sounds like a model for workplace inclusivity: "We have all walks in this building — African-American, Asian, white, male, female, gay, straight," the manager tells USA Today. "Religious affiliations that go all over the place." Starbucks also hired a minority-owned local contractor to build the store, and designed it to include a conference room that nonprofits like the Urban League will use to run job-training programs.
The pastry case will have the usual scones and pumpkin bread, but there will also be caramel cake from Natalie's Cakes and More, a bakery right by the Ferguson police station that made national news when it was destroyed by rioters. Luckily, a sea of donations poured in, and her shop ended up with almost $300,000 from crowdfunding sites. But she says Starbucks met with her and told her to "start dreaming big," and now she runs the bakery 24 hours a day four days a week and nearly quadrupled the size of her staff to supply cakes to the Ferguson store and about 30 others in the area.
[USAT]