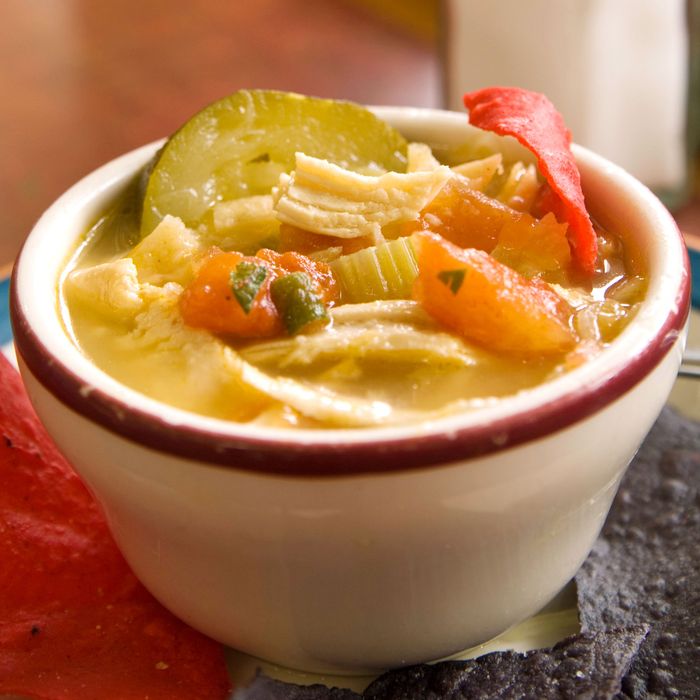 No soup for you.
Photo: Liza McCorkle
In an exchange that sounds like it comes straight from Seinfeld, a lawyer in Texas is threatening to sue a restaurant because it ran out of its popular soup, thereby denying him the free cup that was supposed to come with his meal. Dallas-area attorney Dwain Downing says he ate at Our Place Restaurant earlier this month and ordered the "Saturday special" — an entrée;, two sides, and a soup. But his server told him unfortunately the soup was all gone. Pretty sure this amounted to a grievous legal wrong, he got busy once he returned to the office hammering out a demand letter to owner Benji Arslanovski on firm letterhead:
The menu is an offer for a contract by you. I accepted the offer. This action by you and I created a binding contract which is legally enforceable in court of law. You then breached the contract by not providing the soup as promised by you on the menu.
Adding that Arslanovski has "committed a deceptive trade practice in violation of Texas Law" that could make him liable for "treble damages and my attorney's fees," he then lists his demands:
I demand that you pay $2.25 in damages and $250.00 in attorney's fees for the cost of this demand letter. In addition, I demand that you change your policy and if you do not have an item, either offer a substitute side or give a reduction in the price.

If I have not heard from you in 10 days, I will file my lawsuit against you.
Arslanovski says he opened the letter up and thought, You've got to be kidding me, and that his attorney thought Arslanovski was joking at first. He notes it's "pretty well understood" that their soup is a freebie ("kind of like a pickle"), and that the menu explains it's available only "while supplies last." It doesn't sound like he's sweating the ten-day reply window, but says he may hang the letter up on the wall so he can remember it anyway.
[WFAA]