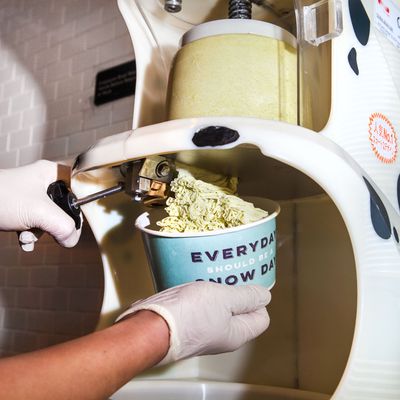 The shaved snow machine at Snowdays.
Photo: Konstantin Sergeyev
When 23-year-old Richard Tam opened his Chinatown shop 10Below last year, it quickly drew three-hour lines of eager customers. This was despite no real marketing on the part of Tam and his business partners, who were first-time restaurateurs. Instead, the shop specializes in a frozen dessert called Thai rolled ice cream, which is made by spreading sheets of pastry cream on a supercold "anti-griddle" that's cranked to -10 degrees Fahrenheit. The instantly frozen pastry sheets are scraped into rolls and served with toppings like Nutella and Oreo. Although most New Yorkers hadn't even heard of the dessert before 10Below opened, Tam was sure it could be big in this city — something he decided even though he himself had never actually had it. Instead, he got the idea after watching a Facebook video of rolled ice cream being made.
Three years ago, the instant rise of fake Cronuts demonstrated how social media hyperaccelerates food trends and gives chefs and owners access to a wealth of ideas they've never had before. In the case of 10Below, it gave Tam instant insight into things that were happening thousands of miles away, in Thailand or, say, Taiwan, or Hong Kong, or, for that matter, Southern California, another hotbed of East Asian culinary influence.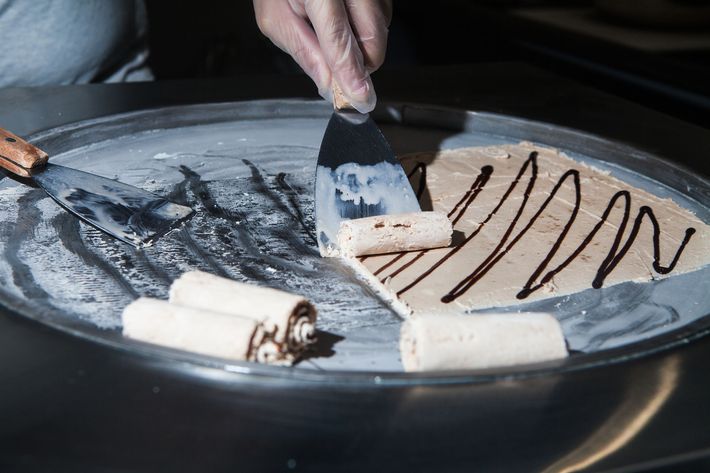 "Having access to people posting in Hong Kong and Japan, we're able to keep up with different trends and really stay on top of our game," says Tony Quach, the co-founder of the immensely popular Snowdays, which opened in August 2014 and specializes in a Taiwanese dessert called shaved snow. It's a variation on shaved ice, made by freezing dairy into the base, that is topped with just about anything: drizzles of condensed milk or peanut-butter sauce, grass jelly, matcha brownies, candy, red bean, and more. (The creation has also been called shaved cream, snow ice, fluff ice, milk fluff, and snowy shaved ice.)
In fact, a whole scene of innovative New York shops have opened specializing in desserts that first gained traction in East Asian countries. Several other spots serving Thai rolled ice cream, also called stir-fried ice cream, have opened up over the last year. The Lower East Side's Juicy Spot Cafe added Thai rolled to its menu last year. An international Thai chain expanded to the city last August with I CE NY and has plans to open in Atlanta, Baltimore, and Delray Beach in the Miami metropolitan area. And two more downtown shops, Frozen Sweet and Minus Celsius Ice Cream, opened earlier this year. Meanwhile, 10Below has already expanded to Flushing, the current epicenter of New York's Chinese community.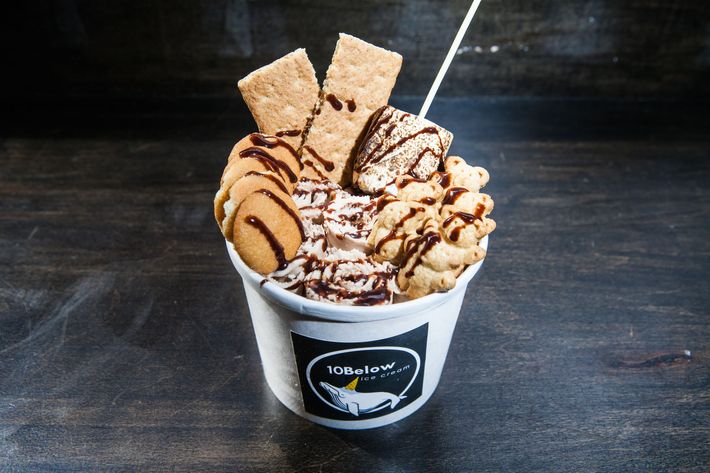 Social media also helps in another key way: It spreads awareness and allows the young owners to connect with a previously underserved audience. Even if a new business is overlooked by traditional media outlets, the Instagram-friendly desserts can nevertheless find traction and a fanbase.
These desserts have tapped into a growing appetite among young customers, especially first-generation Americans whose parents emigrated from spots like China and Taiwan, for over-the-top sweets. Two Los Angeles Chinese-food authorities, restaurant critic Jonathan Gold and writer Clarissa Wei, say the trend likely began in Southern California in 2006, when San Gabriel Valley shop Class 302 first introduced Thai rolled ice cream to the United States. Since then, shops selling the dessert have opened in San Francisco and elsewhere in the Bay Area, Las Vegas, Austin, Miami, Boston, Orlando, Chicago, and New York back in 2011.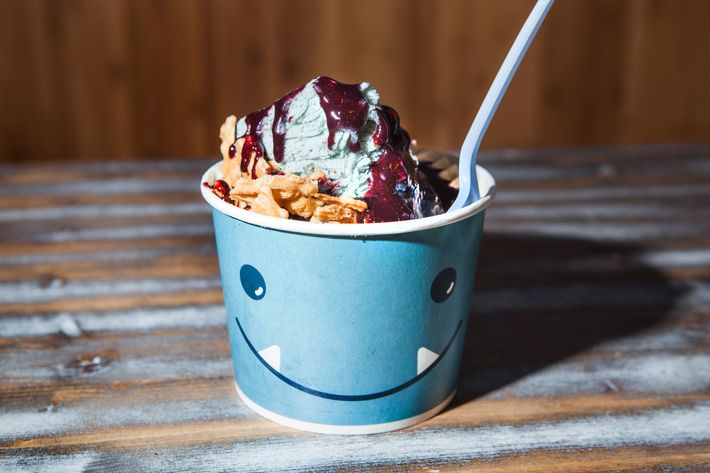 In New York, desserts like Thai rolled ice cream and shaved snow have also helped define a kind of modern sensibility that evolves the city's East Asian culinary scene beyond the traditional Chinatown hotbeds geared toward working-class immigrants. (Just look at the New World Mall in Flushing, which is typically mobbed with teenagers.) But the appeal is probably even simpler than that. The desserts look appealing, offer something new, and tend to amplify the best parts of traditional frozen sweets. In a city where people are always on the hunt for fresh experiences, that combination has allowed operators like Tam and Quach to expand quickly. (Quach and his partners have either expanded, or are planning to, in the West Village, Flushing, Brooklyn, and Forrest Hills.) Quach likens the growth to the recent explosion of fro-yo shops. Of course, that boom quickly went bust, something Quach and Tam probably don't want to see happen again. However, if it does, they can always turn to Facebook to find the next new dessert everyone will soon crave.