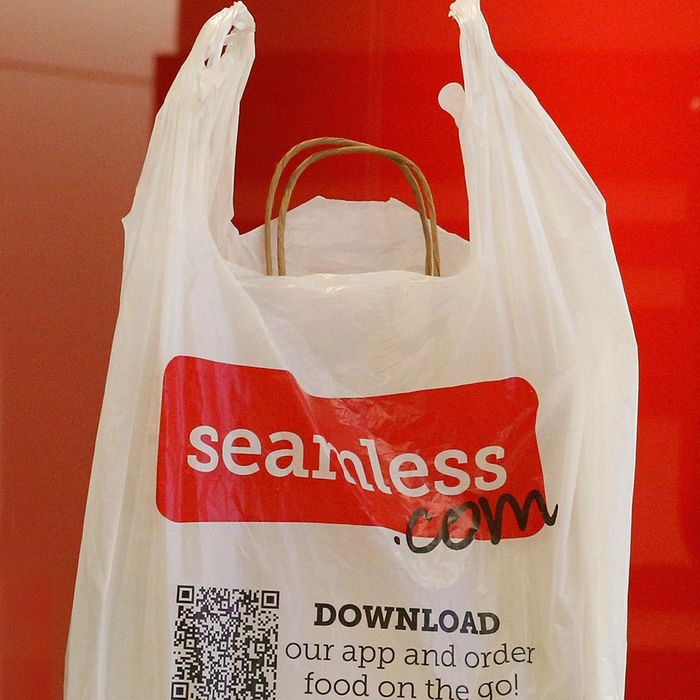 Two ramen burgers, coming up.
Photo: Brendan McDermid/Reuters/Corbis
Seamless has long been the go-to name in online food delivery, but recent competition from companies such as Caviar, Maple, Postmates, and even Uber have made the market very crowded in New York. Plus, more are on the way: David Chang will soon launch a delivery-only Momofuku brand, and there's even Good Bytes, a brand-new group delivering vegetarian lunch boxes to buildings in Dumbo, with a portion of the proceeds supporting Brooklyn public schools. So now Seamless, which is owned by GrubHub, has begun rolling out a new service in New York that it hopes will help the company maintain its position as the market leader.
The current crop of delivery start-ups all have slightly different models and features. Maple, where David Chang is also involved, has its own kitchens. Caviar has been building a network of eateries since 2013 and has more than 400 restaurant partners in New York. Postmates takes a more laissez-fare approach by not officially partnering with restaurants and instead just getting their food to customers as quickly as possible (though over the past year it has added some official partners by featuring their food on "Postmates Plus" and offering lower delivery fees). And Seamless, of course, doesn't actually deliver food in New York; it merely connects customers to restaurants who use their own couriers. That's going to change with the company's new "turnkey" service, which it first launched in other cities last year and is now debuting in Brooklyn and Queens. (The company has been pumping resources into delivery infrastructure as of late. In 2015 alone, Seamless bought three regional restaurant-delivery outfits: Delivered Dish, Restaurants on the Run, and DiningIn. At the same time, it also expanded the service from just one city — Chicago — to nearly 50 others.)
Seamless lists ten New York restaurants using its service so far, including Original Ramen Burger and Cemitas El Tigre in Queens, along with No. 7 North, Mighty Quinn's, and Glady's in Brooklyn. Delivery will take "about 30 minutes" with an additional fee of 99 cents.* Currently, UberEATS does not charge a fee but will be adding a flat fee at some point in the future. Caviar's fee runs from $1.99 to $6.99. A rep for Seamless says the company also expects to "scale up quickly," meaning Manhattan delivery should arrive sooner rather than later. By sending its own messengers to restaurants, Seamless might also finally be able to stamp out the so-called ghost restaurants that still (possibly) haunt the site's traditional listings.
*This post has been updated. The information originally provided by Seamless indicated the delivery fee started at $1.50, which is what the company charges in markets outside of New York. The post has also been edited to clarify that Postmate does partner with certain restaurants.