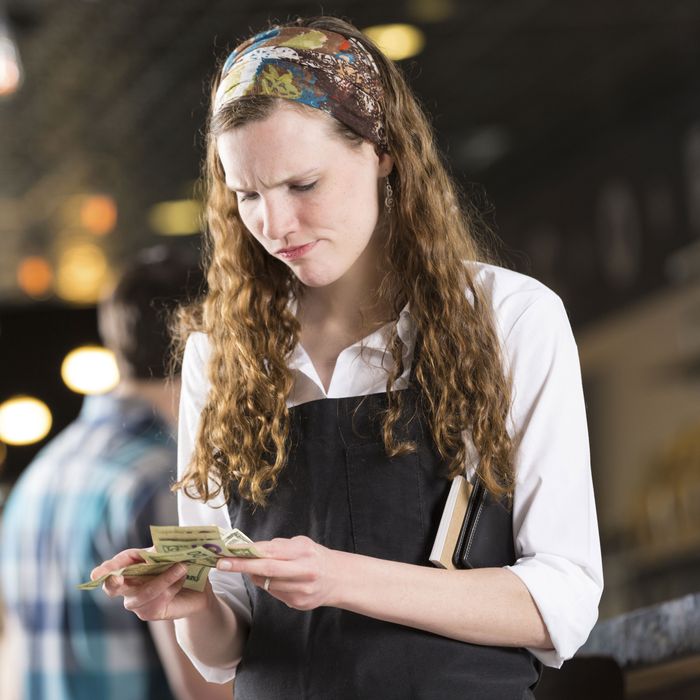 She just wants a raise.
Photo: Steve Debenport/Getty Images
Slipping surcharges into checks is a frequent cost-covering tactic for restaurants, whether it's to supposedly offset Obamacare, subsidize the new $15 wage, or just "because." The city, of course, adamantly maintains that this practice is illegal, and New York's biggest hospitality group is hitting back today to say people can blame Bill de Blasio and City Hall personally for the policy, which they argue forces owners to keep servers' wages low.
In an op-ed in Crain's, New York City Hospitality Alliance executive director Andrew Rigie blasts the city for shutting down a viable alternative to raising menu prices. Rigie contrasts the no-tipping trend (a path to "a dark abyss of unknowns") with the success restaurants in "progressive" cities like San Francisco have had with a "clearly disclosed surcharge." All New York restaurateurs want, he argues, is a flat percentage fee that would go to the house, then be used to pay tipped employees more and up back-of-house wages, since kitchen workers can't legally get tip shares. The problem Rigie's group outlines isn't just that the city's principled stand against surcharges is based on an "archaic" law — it's that the city's position is an accurate interpretation:
A rule was established in 1976 by the city's Department of Consumer Affairs after some restaurants added a variable and at times undisclosed surcharge to menu items in response to a temporary spike in beef prices. The agency was trying to address confusion among consumers. But decades later, its rule is incorrectly being read to prohibit nearly all surcharges, even those that are clearly disclosed and that the original rule was not intended for and did not consider.

Times have changed, and city policy should change with them. The de Blasio administration and the City Council should allow restaurants to add this type of clearly-disclosed surcharge to their menus.
Rigie also sneaks in that an unspecified portion of the surcharge could be used generically by restaurants to "help keep their doors open," an important point when it seems more difficult than ever for small businesses to thrive in the city.
[Crain's]