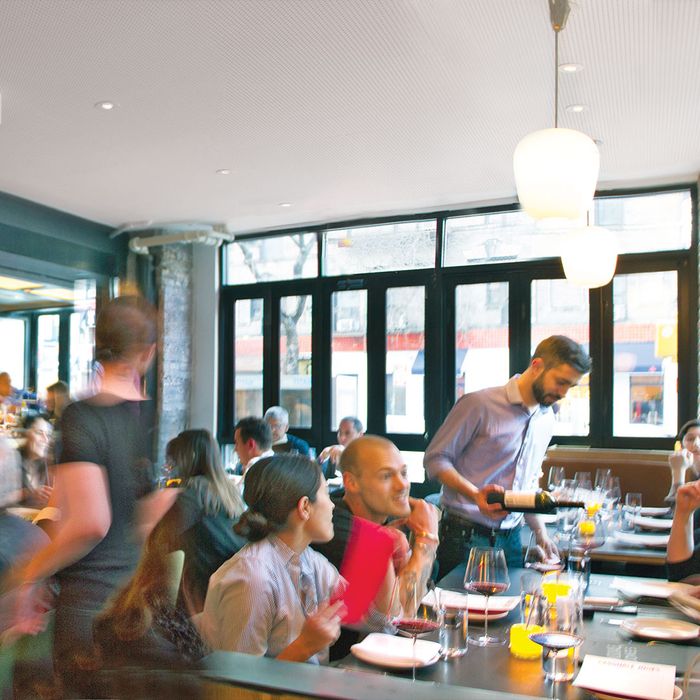 Pasquale Jones.
Photo: Tirzah Brott/New York Magazine
That old bellwether of the New York dining landscape, the Italian restaurant, has lately undergone what Darwinians like to call an "evolutionary leap." Many eons ago, the Red Sauce Epoch gave way to the Age of the Trattoria, which in turn gave way, in certain quarters, to the rise of elevated gourmet establishments like Michael White's Marea and Mario Batali's Babbo and Del Posto. Lately, however, these dinosaur-size operations, and even some trattorias, have been overtaken by a smaller, more nimble (and yes, faster-breeding) species of Italian joint. Grand venues have been replaced by boxy, adaptable little spaces, and baroque multicourse menus have been reduced to a single, tiny page. Tuscan trophy wines have given way to trendy Sicilian peasant blends, lavish ragùs have been replaced by simple classics (cacio e pepe, anyone?), and while a few old dinosaurs still survive in their ancient habitats, without an ancient wood-burning oven (or two) on the premises, the chances of survival out on the great Italian fine-dining savannah are increasingly slim.
Chef Ryan Hardy's sporty, Mini Cooper-sized Soho restaurant, Charlie Bird, was an early example of this chicly adaptable Italian style, and if anything, his new Nolita venture, Pasquale Jones, moves the evolutionary needle even further in the direction of Sparseness and utility. He and his partners (the wine impresarios Grant Reynolds and Robert Bohr) have fit the snug room on the corner of Mulberry and Kenmare with simple globe lights, and the kind of scuffed mosaic-tile floor you might find in the kitchen of a train-station café in Milan. Two small rows of slate tabletops and a couple of half-moon banquettes are folded, origami style, into this little space, along with an elegantly utilitarian wraparound bar where you can sip a reasonably priced quartino of interesting Corsican wine (ask for the '13 Domaine Giacometti) while watching cooks flip a succession of dishes (seasonally appropriate leeks, chunks of locally caught cuttlefish, the inevitable pizzas) in and out of not one but two large, gently glowing, state-of-the-art wood-burning ovens.
The single-page menu here is even more abbreviated than the one at Charlie Bird, but Hardy and the San Francisco chef, Tim Caspare, arrange their elemental ingredients on the plate in all sorts of enticing ways. The aforementioned leeks are scattered with toasted walnuts and shingles of Parmigiano-Reggiano, and the plump, ivory-colored cuttlefish is enlivened with shreds of chile pepper and wedges of a lemon plucked from the famous Sorrento-lemon trees south of Naples. I don't know where the artichoke hearts I enjoyed one evening came from (they're served with slivers of fennel-rich finocchiona salami), but they're Neapolitan quality too, as are the charred, puffy-edged pizzas and the house calzone, stuffed with caciocavallo, shreds of prosciutto, and choppings of broccoli rabe. All of these pizzas are good, but the ones I had to be restrained from ordering again were the clam (littlenecks, garlic, the faintest drizzle of lemon and cream) and that old purists' favorite, the marinara, which is dappled with little black Taggiasca olives and rich spoonfuls of sauce, which, unlike lots of marinaras around town, doesn't taste like the bottom of a tomato can.
In addition to a handful of generally well-executed pastas (try the baby-goat pappardelle or the deeply funky, anchovy-laced Martelli spaghetti), there are just four entrées available at this diminutive, oddly named, highly satisfying restaurant, all of which emerge sizzling from the wood-burning oven in varying states of deliciousness. We sampled bite-size pieces of crispy-skinned spring chicken on my visits, and a soft hunk of wild striped bass garnished with mushrooms and spring onions, which tasted like it had just been fished out from under the Verrazano-Narrows Bridge. The beefeaters at my table went slightly mad over the well-aged bone-in rib eye for two ($125, with a giant charred onion as big as a softball), although for maximum utility, I recommend the $48 pork shank, also for two, which is braised to an almost fruity tenderness and finished with lardo and fennel pollen. Add a pizza or two, and the simple house dessert (grilled pineapples with mascarpone-flavored ice cream one evening, pears with the same gelato the next), and it's enough to feed a discerning family of four out on the great savannah for close to a week.
During the course of their long, storied career together, Mario Batali and Joe Bastianich have opened their share of nimble, trattoria-style establishments (Otto, Lupa, the cavalcade of dining experiences at Eataly), but their latest venture, La Sirena, looks like a dinosaur to me. Or if not a dinosaur exactly, then, as the nautically poetic name indicates, a large and glittering cruise ship of a place, moored amid the fleet of other transient crowd-pleasing restaurants of the Meatpacking District. Like on many cruise ships (and many restaurants around that particular neighborhood), the ghostly presence of a superstar chef hovers over the proceedings, although how long he might stay in the kitchen before flying off to tend to the rest of his vast empire is an open question. Like on cruise ships, there are two dining rooms here instead of one (the restaurant is set off the lobby of the Maritime Hotel, above that mother of all Vegas/cruise ship establishments, the downtown outlet of Tao), although the centerpiece of the more than 200-seat operation is a barn-size cocktail lounge, which is set between the two smaller sit-down areas and features a long, glowing white quartz bar manned by a small army of barkeeps dressed in well-starched aprons and gray ties.
I enjoyed my visits to the bar at La Sirena, where you can obtain a pricey but well-made cocktail (the $18 Vesper martini, for one) and the wait staff perambulate among the assorted Meatpacking swells, their "anti-pasto carts" loaded with olives, breadsticks and great blocks of Parmigiano-Reggiano cheese. But at this early shakedown-cruise stage of the proceedings, the actual dining rooms felt generic, and with the exception of a few stout red-sauce classics (a trio of fat pork meatballs, mascarpone-stuffed pansotti drizzled with brown butter, a rib-sticking "Old School" short-rib beef braciole), so does much of the cooking. I liked my nicely cooked quail alla piastra appetizer (with charred ramps and rhubarb), but unlike the sea bass at Pasquale Jones, the orata that followed it had a distinctive fishiness to it. The "braised and roasted" chicken entrée seemed to have been leached of all flavor long before it reached the roasting stage, and the steak for two is aged in Batali's trademark lardo, a process that imbues the meat with a certain degree of salty goodness but also gives it an unfortunate bouncy, vulcanized texture. Save room, at the end of your dinner, however, for Michael Laiskonis's festive, elegantly pre-potted '90s-era desserts, in particular the honey-walnut semifreddo, which is speckled, like some exotic sea creature, with spikes of frozen meringue.
Pasquale Jones
187 Mulberry St., at Kenmare St.; no phone yet; pasqualejones.com
Open: Dinner Tuesday to Sunday.
Prices: Small plates, $7 to $20; large plates, $18 to $32, with a $125 rib eye for two.
Ideal Meal: Warm leeks, clam pizza, chicken and/or pork shank, grilled fruit with gelato.
Note: The wine list is chock-full of interesting, out-of-the-way Italian bottles.
Scratchpad: Two stars for the simple, satisfying cooking and another
for the wines.
La Sirena
88 Ninth Ave., nr. 17th St.; 212-977-6096; lasirena-nyc.com
Open: Daily for breakfast, lunch, dinner, and weekend brunch.
Prices: Appetizers, $15 to $17; pastas and entrées, $19 to $34, with a $120 New York strip steak for two.
Ideal Meal: Quail alla piastra, pansotti, meatballs or "Old School" braciole, honey-walnut semifreddo.
Note: This hotel restaurant serves a fine selection of Italian-accented egg dishes for breakfast (try Nonna's fried eggs sprinkled with bottarga, and the housemade Italian-style breakfast sausages) beginning at 7 a.m.
Scratchpad: Half a star for the bar and another half for the best of the
nostalgic red-sauce dishes and desserts.
*This article appears in the April 18, 2016 issue of New York Magazine.