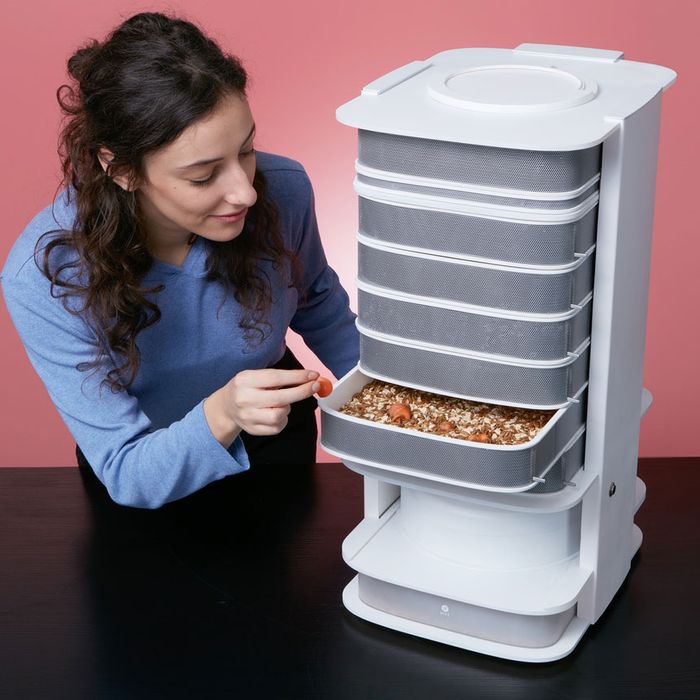 Feeding them couldn't be easier.
Photo: L I V I N farms
Good news for people who can't believe they're still foraging the backyard for mealworms in the year 2016: Those bugs can now live directly on the kitchen counter with the Hive, a device created by a couple of insectivorous entrepreneurs whose purpose is pretty self-evident from the name. Fresh worms constantly hatch and grow inside the device's stacked trays, kind of like a kitchen herb garden–meets–ant farm. For $650, bug eaters, or those just looking for a unique hobby, can preorder a climate-controlled contraption that will produce a pound of bugs per week. The starter kit comes with a bag of pupae; those hatch into beetles; the beetles lay eggs that turn into larvae; the larvae grow into mealworms; and then, voilà, the mealworms become dinner. The whole process is also self-sustaining.
One of the Hive's founders, Katharina Unger, says it's great for people looking to "independently grow their own protein using minimum space in their home." She grew up in Austria raising cows, but realized growing insects takes considerably less space — so little, in fact, that it can be done in between the fruit basket and the toaster. She and her partner, Julia Kaisinger, put the Hive on Kickstarter, and by January they'd pulled in an astounding $145,429 to finance the product development. They also note that the bugs need to eat, but that the cool thing is they're bugs, so they eat table scraps, vegetable peels, rancid food — basically anything that would have gone into the trash. It's supposed to ship in November, although 50-gram mealworm sample packs are available this month for those who can't wait.
[Quartz]