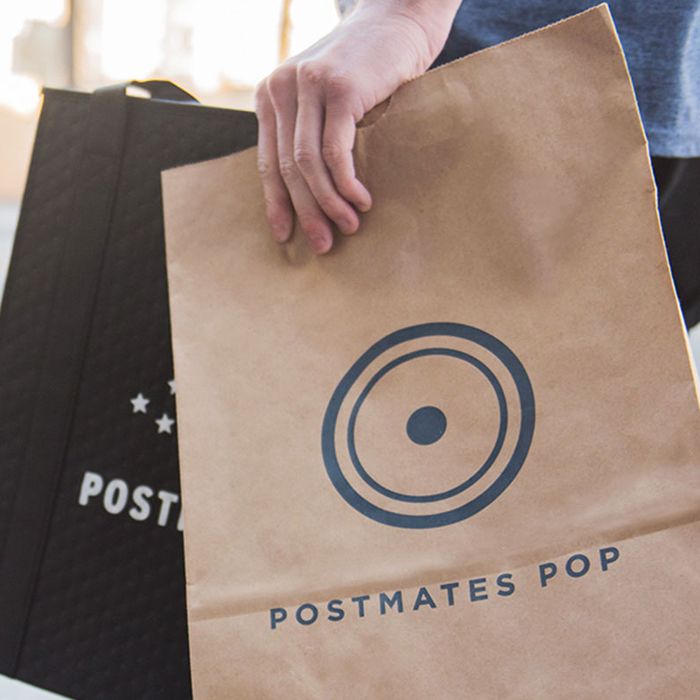 More fast food that's not fast food.
Photo: Postmates
Uber's announcement on Monday that it was canceling Instant Delivery in New York seemed like a bad omen for impatient hungry people — if Uber can't make insanely speedy meal delivery work, who can? Well, Postmates, the food courier of choice for Starbucks and Chipotle, says it's got something that should really interest New Yorkers, then: Pop, the 15-minute food-delivery service it debuted on the West Coast last fall, rolls out citywide today at 11 a.m., just in time for lunch. Unless you're relying on a juice delivery to prevent a diabetic coma, Pop differs in no substantive way from Uber's ten-minute Instant Delivery, which seems to raise several questions about why the latter failed. (Uber's only explanation so far: "In order to bring you the most exciting selection, the highest quality food, and the fastest delivery time, we've decided to narrow our focus.")
According to TechCrunch, Pop in NYC will work just like it does in San Francisco, with an icon appearing on the app that loads that day's list of prepackaged items customers can have in 15 minutes or less. For now, the delivery range is limited to Manhattan only, from 34th Street down to the Bowery, but there also won't be a delivery fee at first. Postmates hasn't said which restaurants it's partnering with yet, so that will be today's big lunchtime surprise.