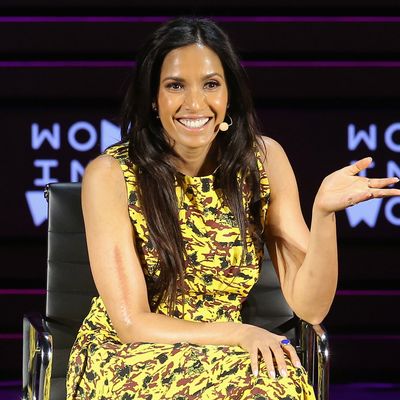 "I didn't know ducks had testicles, frankly."
Photo: Jemal Countess/Getty Images
On Thursday, at the Women in the World Summit in New York, Padma Lakshmi sat down with André Leon Talley to discuss food, feminism, modeling, and health. Grub wanted to know, though: Can food still shock Lakshmi? Is anything off-limits in her diet? Read on to find out.
You eat a lot of unusual things on Top Chef. What's the most interesting food you've ever eaten?
Food is something that has always been so central to who I am. I look at the world through the lens of food. One of the things that modeling afforded me was being able to travel at a very young age just after college, all these wonderful places that I would have never gotten a chance to go to. And just shuttling back and forth between India and America and stopping along the way in places like Singapore has opened my palate up, so I did get to try all kinds of weird and strange things.

May we have some examples?
I've had a lot of bad stuff, too.

What's the bad stuff?
Well, on Top Chef they made me once have duck testicles.

Was it savory or sweet?
It was savory. I didn't know ducks had testicles, frankly. Before that I was doing a documentary on food called Planet Food, and Planet Food goes into a country and you learn about that country through the way that people eat. We were in Spain and I was forced to go to this bull fight, which was quite riveting and astonishing at the same time. And afterwards, the local delicacy is bull testicles, so I had those, too.

What do they taste like, chicken?
No, it tastes like grain.

What?! And you consumed your daughter's placenta, correct?
It's not as gross as it sounds. I had it dehydrated and capsulated, and I just took two placenta pills in the morning with my coffee. It's supposed to shore up your reserves, and when you are pregnant, all of your body is focused here and giving all of the nutrition and energy and blood and vitamins here, and then when you give birth and your afterbirth comes out, all of that is gone, so you feel very depleted. There's not a lot of scientific research on it, so I don't want to blab up here on the stage, but I will say I did it because I wanted to stave off postpartum depression. I think because of what was going on in my life, a lot of which is in this memoir, I was very worried about that. The network shut down Top Chef because I had a very difficult pregnancy and I was bedridden for the last trimester, and so I couldn't shoot. They could have very easily gotten someone else; thankfully, for me, they shut the show down, so I felt a great sense of responsibility to go back to work. One hundred fifty people laid down their tools and weren't working till I got back up. So I went back to work literally five and a half weeks after I gave birth. I had an emergency C-section, and so I would have done anything. […] No, I didn't sauté it with onions and have a glass of Chianti.