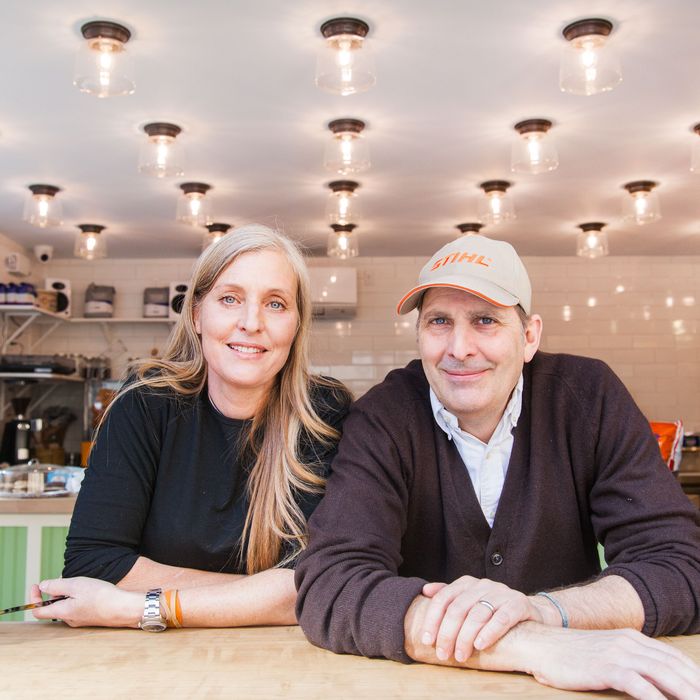 Owners Toni Allocca and Nick Hartman.
Photo: Konstantin Sergeyev
When 27-year-old Toni Allocca opened Olive's on Prince Street in 1992, it was actually hard to find a fresh salad served in a handy takeout box. "I worked at Jerry's at the time, and I had this vision to make restaurant food for a to-go market," she says. "Home-cooked chicken. Fresh-baked cookies. You really couldn't get simple, clean, fresh food to go back then. That was always the goal. And, you know, it's 24 years later." Not much about Olive's has changed during that time: The menu is comprised of 70 percent of the original sandwiches, soups, and salads; the shop still attracts creative types (David Bowie was a regular); and Allocca, as well as her family, still work there every day. What has transformed is the surrounding Soho neighborhood, and as a result, Olive's is being forced out of its cozy Prince Street space. Luckily, the family saw it coming and has already opened a new location just a few blocks away.
In today's New York food world, novelty is too often prized over quality. Olive's, however, more or less ignores trends in favor of keeping its menu, and recipes, simple. "If you do too many things, you're not doing anything very well," Allocca explains. "I've always felt that: Do what you do well and forget about the rest." The attention to detail borders on obsessive: The avocado sandwich — a big seller — remains a Thursday-only special because Allocca can't get ripe avocados as often as she wants, so she spends days making sure they're just right. ("Sometimes, we have to get the avocados four days out," she says. "Sometimes, we have to get them the day before. It's like a whole science"). Two weeks ago, Olive's switched its mozzarella supplier because Joe's Dairy stopped making its cheese by hand. "We noticed it had a toughness to it, so now we're using DiPalo's," says Nick Hartman, Allocca's husband and business partner. And the chicken on the store's most popular sandwich is still grilled and marinated the exact same way it was when Olive's first opened.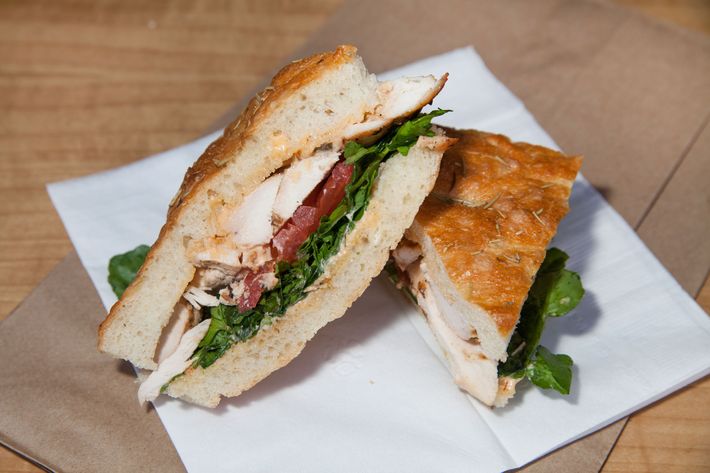 In fact, it's fair to say that Olive's paved the way for many of the newer shops that approach sandwich-making with a culinary sensibility — such as Court Street Grocers or High Street on Hudson — but its most defining feature is that it's a true mom-and-pop, in the middle of one of the most expensive retail neighborhoods in America. As such, Olive's has managed to create a unique environment for regulars. Allocca met Hartman because he was a frequent customer. "The beauty of Olive's is that it's okay to hang out, even though it's a to-go operation," Hartman says. "It's about taking a break, meeting other people, and starting conversations. Toni came outside to the bench and sat down next to me. We had a cookie, and after five dates, I knew. Six months later, we were married." Now the couple's two children work at Olive's, too.
This wasn't such an unusual thing when the store first opened: In the '90s, Hartman says, the owners themselves worked in every store on Prince Street. "The biggest chain in the early '90s was agnès b., and even Agnès worked in her store!" he says. "The Dean & DeLuca owners actually worked in their store! It was a time that everybody was proud to run their own stores. And you have to remember that in Soho, in 1992, every single place sold food. But as the rents started creeping up, food stopped being able to afford New York." Now there's a boutique Chobani store one block from Olive's offering "yogurt creations" in glass bowls for $6.40. Sadelle's is around the corner selling $29 deli-meat sandwiches. ("What is New York City going to turn into?" Allocca asks. "Can we pay $25 for a sandwich?")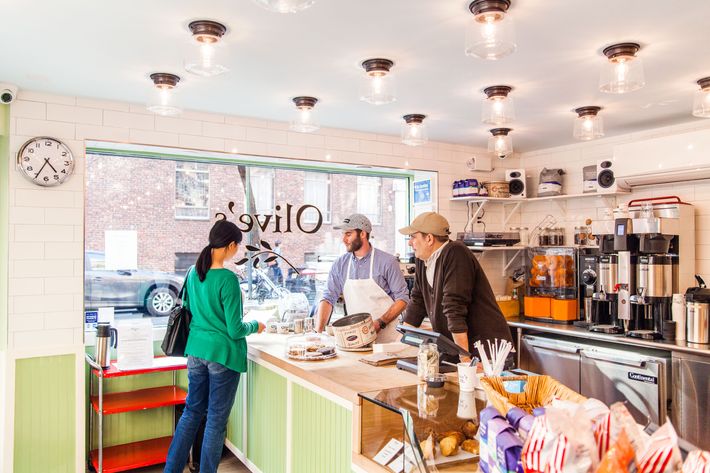 "I felt the shift when Chanel moved in," Allocca says. "That really changed Soho. And, then again, when Chelsea took the art world away from Soho in the early 2000s." Still, she was able to renegotiate the Olive's lease every six years without problem. But in the mid-2000s, things started to change. "For some reason, the economy crashed, but New York's really didn't, at that point," Hartman says. "People seized every opportunity to buy buildings at the lowest prices, and it forced bigger rents. They weren't out of hand yet, but they increased."
The building that houses Olive's got purchased three years ago, and Allocca and Hartman knew it was inevitable that they'd get priced out, so they started to scout spaces. That was about the time they got a call from Hudson Eats at Brookfield Place. They had long resisted expanding, even though, "in order to make a living in New York, you have to have 30 stores," Hartman says. He adds, "If there's even ten of Olive's, it's not the same experience. You're not going to get to know us, or see my daughter in the store."
Olive's opened in Brookfield Place in 2014, and then it finally happened: Their Prince Street rent got jacked to the point where it became untenable. "There was no way that I could stay," Allocca says. "No way. NARS and Wolford moved in. I can't compete with a $10 sandwich. I can't pay those rents." She and her husband emphasize, though, that they understand the realities of the New York real-estate business. They're not bitter. "The new owner paid a rate well above market, and it put him in a position where there's no way he could continue to charge our rent," Hartman says. "Ten years ago, it was fair-market rent, and now that fair-market rent has tripled. For the food industry, unless you're a franchise, there's no way to afford that. That's why from West Broadway to Broadway, there's no more food."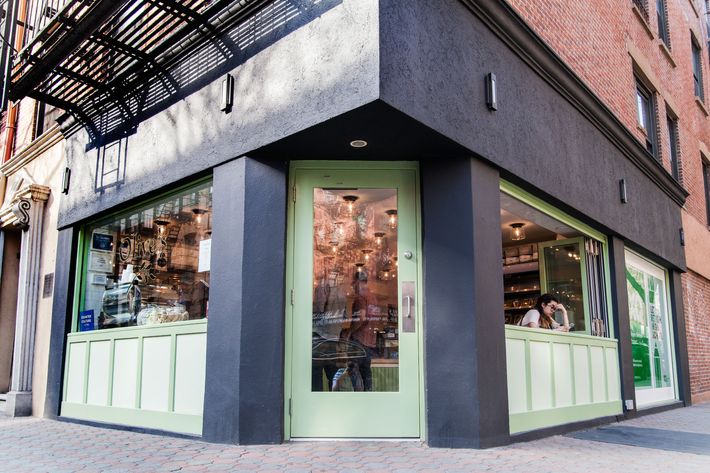 There was a threat that Olive's would be pushed out of Soho entirely, but its new location — in an old pizza place on the corner of Prince and Sullivan Streets — is almost too good to be true. "They came to us because they hadn't been able to rent the spot," Hartman says. "The price kept coming down and down. They finally said, 'Hey, what would you like to pay?' We're paying exactly our old rent, before the increase. For that side of Soho, I think it's fair rent." It's strange to think a space in such close proximity could be that much more affordable, but this is the same stretch where Joe's Dairy stands unoccupied after three years, and Milady's after two. It might be the one pocket of Manhattan where landlords aren't exclusively holding out for big-ticket tenants. (Their old landlord is also letting the family keep the original location until the new outpost gets its gas.)
"I was very emotional in the beginning when I knew we had to move," Allocca says. "But I feel like this new spot is what Soho felt like way back in '92. It's a neighborhood. Where I was, I felt old, like I didn't belong. The stores are changing so rapidly and everything's moving very fast. But I feel like I fit in here again."