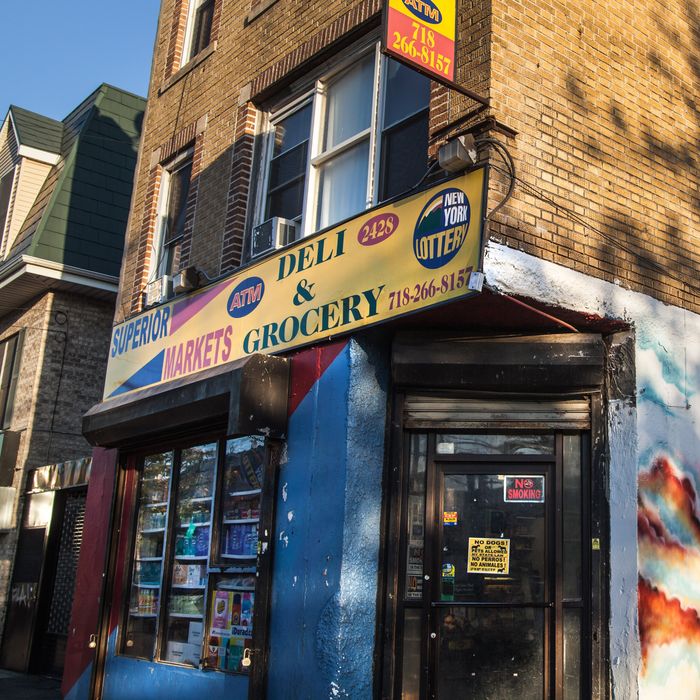 A real public nuisance.
Photo: Konstantin Sergeyev
The Bodega Association is threatening to sue the NYPD on behalf of immigrant deli owners who say they're getting bullied by out-of-control police. The alleged scheme was detailed in a long exposé published on Friday by the Daily News and ProPublica. The gist is that officers are abusing a tactic at their disposal (nuisance abatement actions) in order to scare immigrant-run bodegas into agreeing to invasive surveillance measures, like warrantless searches. Nuisance abatement actions are civil lawsuits that the NYPD can use to close stores that investigators believe are being used for illegal activities. "The police are picking on the most vulnerable stores, those with owners that are less educated about city laws and regulations," says Bodega Association president Ramon Murphy. "They are using intimidation tactics that force the owners to give up their legal rights. We will fight back with all of the legal weapons at our disposal."
The legal ins and outs of nuisance abatement actions are complex — the Daily News and ProPublica spent 4,000 words on the topic and quoted a number of city officials, including Police Commissioner Bill Bratton. Either way, according to their investigation, there have been 646 of them since 2013, and 9 out of 10 were in majority-minority neighborhoods. On the merchants' end, at least, the result of these actions is that they become the target of a sting that attempts to connect them to criminal activity (and, the story argues, may qualify as entrapment). They usually end up settling the lawsuits, face steep fines and business closures, and give officers permission to conduct warrantless searches, install cameras, even use e-readers monitored by the NYPD that store customers' info. Some of the merchants who talked to the Daily News and ProPublica said they've already paid thousands of dollars in fines and could get shut down for up to a year if "anyone is even accused of breaking the law at [their] business again."
The NYPD has remained silent, besides to say their actions are "about a place … not about people," and are meant to stop crimes from reoccurring at "repeat offender" locations. Manhattan borough president Gale Brewer had no qualms about weighing in, though, and she added that, whatever the law's original purpose, it's "certainly not intended as a cudgel to force small businesses into agreeing to provide the NYPD with warrantless searches." The Bodega Association says it's going to sit down with attorneys next week to see where this can go.
[NYDN]