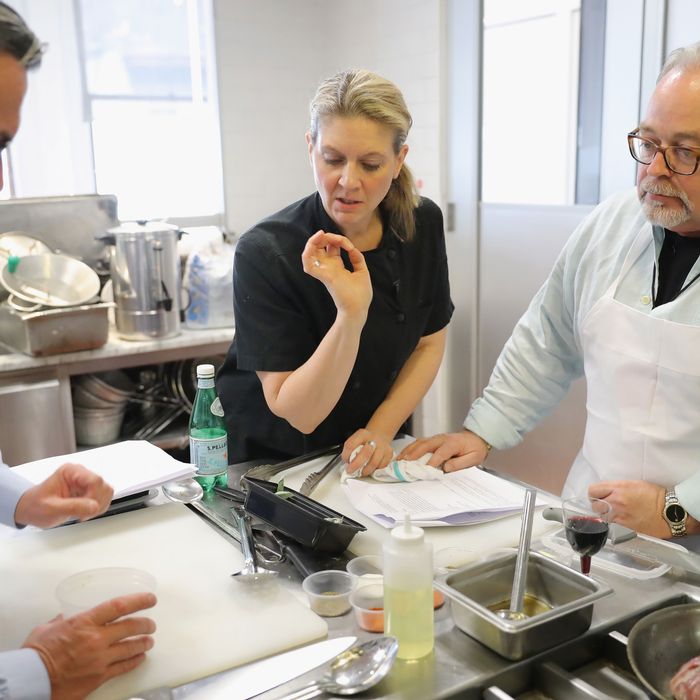 Amanda Freitag, dropping some knowledge.
Photo: Neilson Barnard/Getty Images
This past weekend, some of the country's best chefs chopped veggies, shucked oysters, baked bread, and just generally cooked a ton of food with hungry guests at this year's New York Culinary Experience (hosted, as always, by New York Magazine and the International Culinary Center). The lineup included culinary legends like Jacques Torres, Mimi Sheraton, and Jose Garces, as well as hot-this-minute chefs like Judy Joo, Chung Chow, and Daniel Rose. Here's a handful of pro-level tips to take home:
1. There's no such thing as too much garlic, as long as you cook it slowly. Missy Robbins uses 30 cloves for every can of tomatoes for her Diavolo sauce. "I make it at home, just for me, and count out the garlic cloves," she said. Ten whole cloves get caramelized slowly, and the rest get sliced to disperse as they slowly cook in the sauce. The result is a huge hit of flavor, without any sharpness.
2. Pasta maestro Robbins also has a secret weapon to combat fullness: Go easy on the fat. "I went on Weight Watchers and had to cook for myself with much less fat," the Lilia chef says. She still uses oil and butter, of course, but says she now focuses on looking elsewhere to impart big flavor in her recipes, turning to ingredients like citrus juice and zest, as well as vinegar. And she has another secret ingredient for flavor: anchovy. It's often hidden in her dishes, covertly lending lots of umami. As a diner, you'd never really know it's there, the chef says, but "without it, something is missing."
3. Upland's Justin Smillie suggests buying dried garlic from Chinatown. "You can get a giant quart container for $4," the chef told his class. The group used it to season bigeye tuna crudo, but Smillie — whose food at Upland and, before that, Il Buco Alimentari e Vineria, has drawn legions of followers — also loves it in chicken jus, tartare, and even waffles.
4. Duck breasts are a simple, overlooked weeknight meal. Food Network mainstay Amanda Freitag proposes switching up dull chicken with seared crisp-skinned duck breasts. They take a little longer to cook, but you get a bonus while it happens. You can ladle out some of the fat as the breasts render and use it to cook potatoes or veggies, too.
5. Chocolate authority Jacques Torres stocks up on supplies at Home Depot. The pastry chef revealed he uses a heat gun to temper chocolate. But when airport security once trashed his — "those guys are tough" — he had to improvise and pick up a hair dryer, which worked fine. Torres also measures temperature with a Home Depot laser thermometer.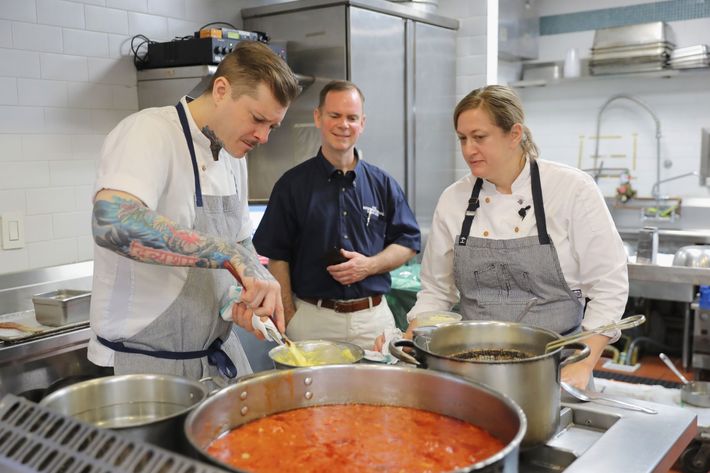 6. The next hot ingredient might just be green buckwheat. Also called tartary buckwheat or duckwheat, this whole grain turns green when it gets wet. Bien Cuit baker Zach Golper uses it for its nutty, complex flavor; plus, it's rich in vitamins and minerals.
7. Restaurants are about to go big on "responsibility." Betony chef Bryce Shuman says that word informs everything he does in his kitchen, and he knows other chefs feel the same way. "A carrot is the grower's life," Shuman says. "How am I going to throw that in the garbage?" He says he makes sure his staff thinks the same way, and comes up with innovative ways to use every ingredient.
8. Add a little bit of ice water to your salad dressing. It might sound unexpected, but Shuman says the cold helps the emulsion stay creamy and smooth.
9. Audrey Saunders swears by the "Mr. Potato Head Method" of cocktail recipes. Pegu Club's bartending icon creates new drinks by starting with classics and plugging in new ingredients. "It's how bartenders remember thousands of recipes," she says. She even compares it to the very foundation of French cuisine. "Cocktails have mother sauces, too."
10. Splurge for gluten-free soy sauce. Noreetuh chef Chung Chow explains that gluten is added to commercial soy sauce to speed the fermentation process because — surprise! — it's cheaper and faster. As Chow explains, yes, the gluten-free version costs more, but it also has superior flavor and added dimension, making it more than worth the additional cost.