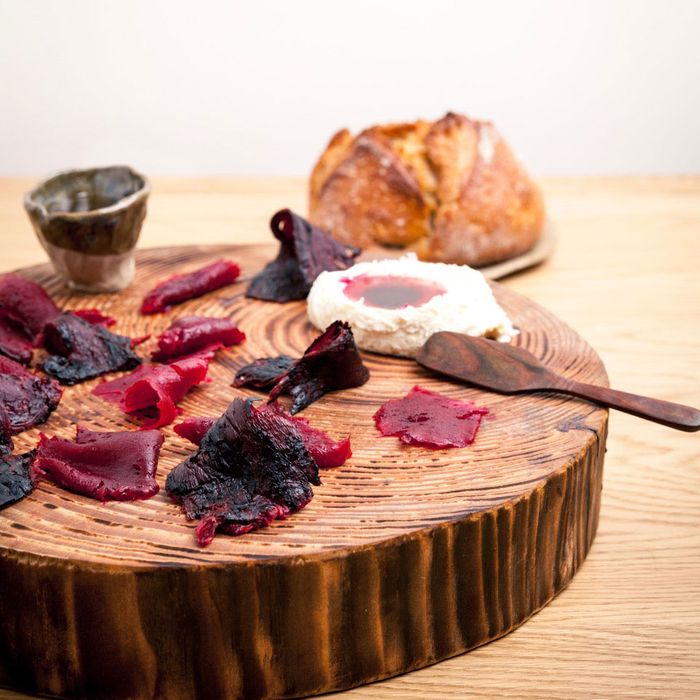 Beetroot and elderflower "charcuterie" from the Hong Kong pop-up. This time, it will be tomato "charcuterie."
Photo: Michael Marsden Kieran
Dinner at a stranger's house never sounds this good. Chef James Sharman and four of his fine-dining friends — former Typing Room sous-chef Bart Szymcazk and ex–Tom's Kitchen sous-chef Kevin McCrae, manager Trisha McCrae, and cook William Wade — are using Airbnb to throw pop-up dinners around the world. Their roving pop-up, One Star House Party, started after Sharman ended his gig as chef de partie at Noma, when the restaurant temporarily relocated to Australia. After a stint at an abandoned printing house in Hong Kong, they've arrived in Chelsea, at 436 West 20th Street.
This won't just be a fancier version of that Columbia student's dorm dinners run by real chefs. As documented on Instagram, Sharman and his crew are going so far as to actually build chairs and tableware from scratch for their temporary restaurant. And while most nights are sold out, there are still tickets available for Wednesday and Sunday.
What's it entail? For $125 a head, gratuity included, you'll get a seven-course tasting menu that sounds pretty compelling. Think courses like tomato "charcuterie" with housemade ricotta and olive juice ("a twist on pizza"), chicken confit in hay with egg fudge and chervil, miso-smoked pumpkin with beef short rib and pine nuts, and a pair of desserts including a smoked chocolate brownie with raw marshmallow. Plus, it's BYOB, so you can break out a couple of fancy bottles or maybe bring a few bottled Manhattans for good measure.
When the pop-up ends after Sunday, One Star will head west to San Francisco for another six-night run. Don't expect the menu to be identical, though, as Sharman tells Grub they want to "learn what makes the food in each city unique and then let that inspire our menu." After that? The crew will cross the Pacific to Taipei, then hit Tokyo, and finally land in Seoul for what is currently the last stop on their Asia tour. While there are no plans beyond Korea, it doesn't sound like it will be the end of One Star. Look alive, South America, as Sharman says they're thinking about parachuting into Rio de Janeiro just before the Olympics start on August 5.