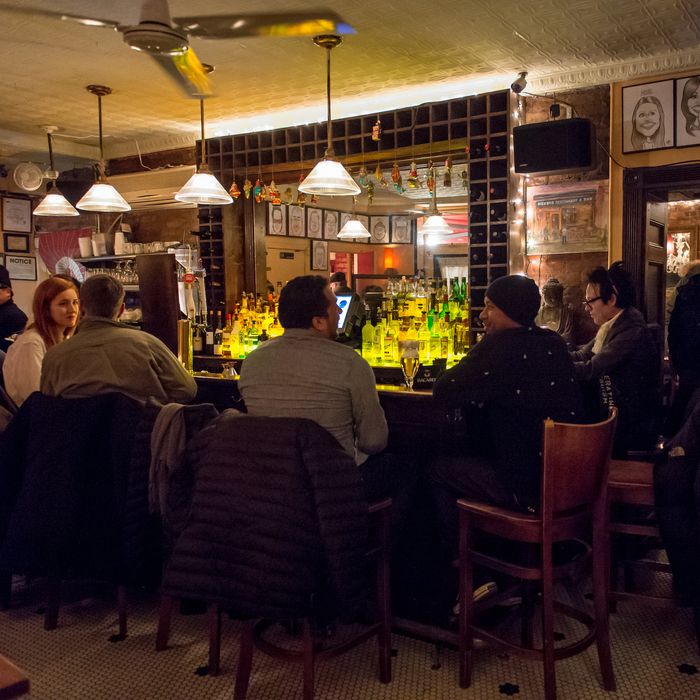 A typical night inside the fun, festive Soho spot.
Photo: Robert Banat/Courtesy of Mekong
There are two ways in which a restaurant can evolve from innocuous brick-and-mortar eatery to a kind of clubhouse for a convivial, ever-rotating group of regulars that collectively create a scene. One clubhouse model, fine-tuned in Manhattan, maintains a guarded membership, carefully cultivating a crowd of bold-faced names from the fashion, film, finance, music, and media worlds. The figurative, and sometimes literal, window curtains are drawn shut; publicly listed phone numbers go unanswered by actual humans; and the errant walk-in, when granted entrance at all, is sent to Siberia while the regulars obsess over their spot in the seating chart's constantly shuffling pecking order. The places change over the years — the original 44, Balthazar, Elaine's, Da Silvano, the Odeon (suddenly in with the in crowd once again), BondSt, the Waverly Inn, Lure — but the carefully maintained patronage, by and large, does not.

Then there are the local cafés that, for whatever reason, gradually transform to a more spontaneous scene that flies under the radar, since that's the way the crowd of lesser-known creative types prefer it. We're talking boisterous bistros of past and present, like lower Fifth Avenue's labyrinthine Marylou's (RIP, 2001), the Bowery's bordello-like Marion's Continental (which passed back in 2008), Soho's art-world haunt Raoul's (now overrun with gourmet-burger-hunting gastrotourists), Match, the literary set's Café Loup in the West Village, or even Tribeca's Warren 77 (the sports bar that really isn't).

In both scenarios, the bar crowd mixes with the dining room, and, eventually, the whole thing turns into one big party. For me, the best of the non-membership — and, thus, better — New York clubhouses is Mekong Restaurant and Bar, a 1,000-square-foot Vietnamese café that has, for the past decade, held tight on a windswept corner of what could only be called WoHo (where the West Village meets Soho, sort of; it's apt that even the locale doesn't have a catchy real-estate moniker).

But it's time to say tạm biệt: Mekong will serve the last of its fragrant iron-pot curries and snapper with spicy mango sauce before closing on April 28.

"Mekong was a stealth in-crowd restaurant that kept its charm and cheap-chic aura because it was never written about," says Michael Gross, the author and journalist known for his power-elite exposés (Unreal Estate, 740 Park). "You'd find friends and equals at the other tables, not bosses or celebrities or people you felt you had to dress up for." Amri Kibbler, a co-founder of heymama and former fashion editor, says at one time it was her "weird Vietnamese Cheers," noting that she's largely forgotten the best times she had there because "they were so good."

"When I lived downtown on Sixth Avenue, we'd eat there twice a week," says Christopher Tennant, editor-in-chief of Man of the World magazine, author of The Official Filthy Rich Handbook, and maker of aquatic dioramas. (A not-uncommon collection of interests for your average Mekong regular.) "You'd start the night as a four-top outside, and within an hour your table would be spilling over into eight or ten, everyone's chairs poking out onto the King Street sidewalk. It was the kind of place where you'd run into people you hadn't seen in five years and realize you still had this one place in common."

The man behind the whole thing is Brian Bui, the Nha Trang, South Vietnam–born proprietor who moved to the Bronx in 1978. After NYU and a stint working for a Japanese trading company, Bui opted to chase his dream, envisioning a Vietnamese restaurant inspired partially by Rick's Café in Casablanca. He first opened at 44 Prince Street, and the north Soho location quietly drew the literary and gallery crowd. "It wasn't cultivated," he says. "It became a laid-back place to eat and get fucked up." Eventually, it got too expensive, so in 2006 Bui ventured to the untapped fringes of Soho, on King Street, where he kept the momentum going. Though the restaurant was closed on Sundays, he'd often let a few regulars know he was going to test out some recipes on that day, such as an incredible wasabi chicken that made Blue Ribbon's version seem tame. If the Oscar ceremonies were on TV, he'd open Mekong on his off day and just order pizzas for all his friends.
Celebrities did ultimately discover Mekong — S.I. Newhouse, of all people, had a birthday there. Iggy Pop, Lauren Hutton, John Slattery, and Paul Giamatti all checked in, too — but they tended to blend in instead of take over. Most people liked it exactly because it was the kind of place where you didn't want to drop a name or a business card. There was something like a reverse snobbery. And although King Street has its share of famous residents, it was always the under-the-radar neighborhood personalities who set the pace and ruled the airy, tiled-floor roost. Bui even decorated the walls with caricatures of regulars, Palm-style, except nobody but locals could recognize them.

John Newsom, the painter who lived and worked blocks from Mekong for 20 years, likens it to a living room for the neighborhood. "It was a meeting place for like-minded, and not-so-like-minded, creative types to gather and revel in each other's lives and experiences. Not bohemian types, just real types," he says. "This was a warm place with heart. That said, it could also transform into a rambunctious playground." (Newsom once got into a drinking contest at Mekong in which he downed 45 shots to beat his opponent, a kind of nightlife Iron Man who, he says, ended up "belly-side down on the floor.")

Now, though, it's ending, and Bui is feeling a particular type of déjà vu as his landlord wants $25,000 a month — a 50 percent increase over the current rent. "You try to maintain," Bui says, "but it's no longer economically viable. Most of Keith McNally's spots, as well as Raoul's and all the Blue Ribbons, are catering to tourists. The neighborhood places just don't work anymore."

Like most of its regulars, my wife and I began frequenting it out of convenience. When our former clubhouse, the Beatrice Inn, was shut down for being too fun, and then our neighborhood dive Milady's Bar followed suit, we found ourselves deprived of a nearby casual rec room frequented by friends where we could hang out, eat from time to time, work, and just generally consider our second home. And now we need to find yet another.

Regulars, however, are optimistic that a third act may still happen. "I don't believe it's really closing. I tell myself, 'It closed before, and it came back," Gross says, before pausing. "But I also tell myself Donald Trump won't end up as president. I'm a hopeful guy."