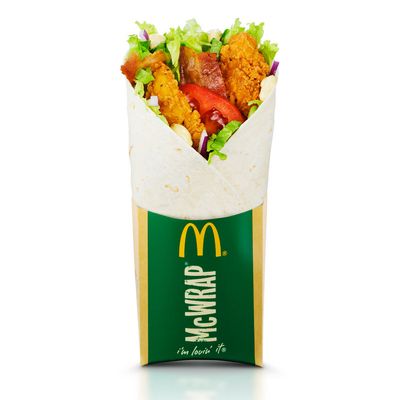 In memoriam.
Photo: McDonald's
For the past year, McDonald's has ostensibly been purging its menu — part of its new "The Simpler the Better" corporate ethos. The path hasn't been the most direct one (the chain keeps shooting itself in the foot by introducing new items), but CEO Steve Easterbrook has nonetheless insisted it's happening. Today, the chain offers some hard proof: A rep tells Bloomberg that the McWrap is finally being put out to pasture. Franchises started phasing out both the large (i.e., "Premium") and snack-size wraps last summer. Some holdouts are still selling chicken-ranch wraps in the snack size, but the company says it's time to go ahead and think of the McWrap as being up in fast-food heaven.
The item first appeared in 2006, then underwent a serious makeover in 2013, but the upgrade made them a nightmare to assemble. They contained lots of ingredients, including a tortilla that needed steaming and fresh vegetables that had to be hand-chopped. As a result, workers would say things like, "Our kitchen comes to a halt when we get an order for a McWrap." Assembly was supposed to take 60 seconds, tops, but corporate kept getting an earful about the steps being so hard to memorize that workers often took more like a minute and a half.
Something like 70 percent of McDonald's sales occur in the drive-through, so every second counts. Add to all this the advent of All-Day Breakfast, which saddled already-crowded kitchens with another half-dozen menu items around the clock, and franchises started losing their minds over a menu that, at its peak, had metastasized to 121 items. And if there was one thing that could go, it was probably these wraps — stores were reportedly selling an average of 140 for every 1,000 cheeseburgers. Ironically, the McWrap was one of the healthiest things on the menu. It was originally envisioned as a "Subway buster," which may be the problem, since nobody's really eating Footlongs anymore, either.