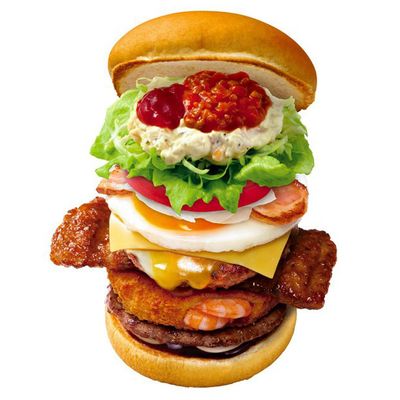 Also includes a whole day's calories.
Photo: Lotteria
The most terrifying foods concocted by American chains are mere child's play next to what Japan's Lotteria can inflict on customers using nothing but lettuce and tartar sauce or a movie tie-in. It went mad long ago, in other words, and has a formidable backlog of fast-food nightmares it can reintroduce at any time. Perhaps to put McDonald's Giga Mac in its rightful place, then, it's decided to bring back the Burger With Everything on It.
The burger's name is pretty accurate, as is made clear by the list of what's on this slightly updated version that debuts on April 28: First, it stacks up a beef patty, a fried shrimp patty, a rib patty, and a second beef patty with cheese; then it tops the meat tower off with more cheese, bacon, lettuce, cabbage, tomato, and onion; then it heaves a healthy glop of six sauces on top (teriyaki, mayo, spicy mayo, tartar sauce, meat sauce, and ketchup) to presumably seep down and act as glue. But if the goo potential here still underwhelms so far, no worries — Lotteria also crams a soft-boiled egg in there. The Everything debuted back in 2013, so this exciting rerelease is perfectly timed to coincide with the amount of time it took customers to digest their first.