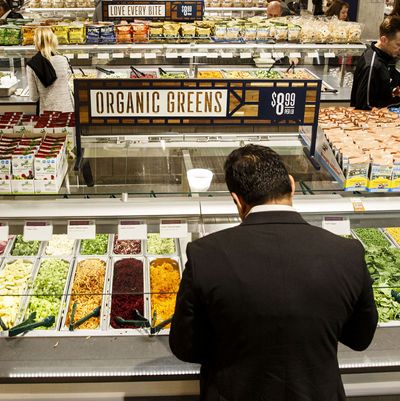 Don't worry — they can all lower your premium.
Photo: Patrick T. Fallon/Bloomberg via Getty Images
Insurance giant John Hancock is giving life-insurance policyholders an incentive to eat their fruits and veggies. Starting today, qualifying customers can save money on their premiums by eating food that's good for them, and even earn discounts or cash back on even more healthy groceries. John Hancock's president, Michael Doughty, says it's the first insurance company in America to offer this kind of perk, though one wonders why that's the case, considering he readily acknowledges that healthier policyholders mean "we're not going to have to pay out claims as quickly."
The way it's set up, policyholders who decide to participate will get a rewards card (quite the fad right now) that entitles them to 25 percent off foods designated as "healthy" at Walmart. Or they can get cash back at 70 other grocery chains, up to $50 a month. Policyholders also earn "frequent-flier program"–style points for buying healthier foods — the more points they rack up, the more dollars they'll earn off their annual premiums. John Hancock imagines that it'll incentivize America's rapidly widening population to get healthier, and also (side benefit!) that everybody will buy more life insurance, since the sales team can now sit you down for a conversation "about earning points," which, in today's world, not even the specter of death can ruin.
[USAT]