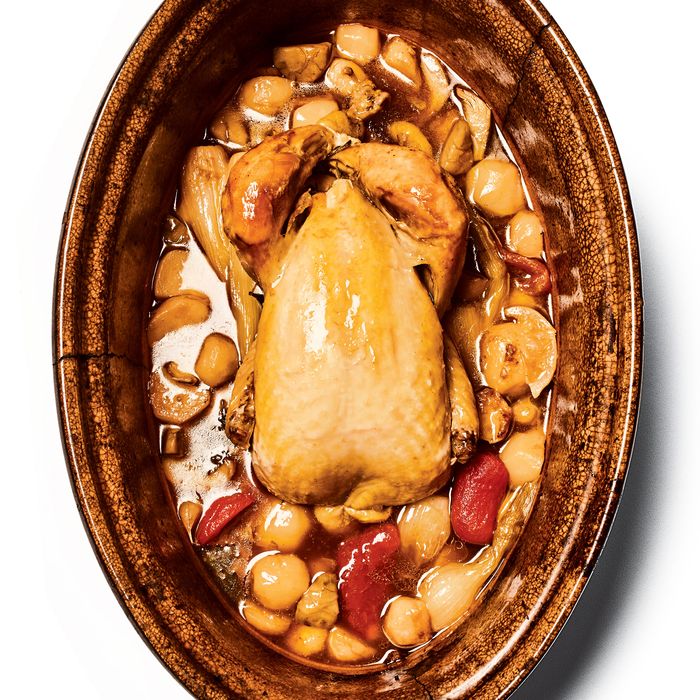 Le Coq Rico's chicken baeckeoffe.
Photo: Bobby Doherty/New York Magazine
According to Larousse Gastronomique, the peasant dish baeckeoffe was once a popular Monday-night special among the townsfolk of Alsace. Monday was laundry day, when housewives often found themselves too busy to cook. The solution: Just drop off your earthenware casserole of mutton-pork-and-beef stew marinated in wine with the village baker, who, like a human crockpot, was responsible for slow-cooking baeckeoffes in his oven after he finished his bread. Then have the kids pick up the finished dish on their way home from school. At Le Coq Rico, the new Flatiron spinoff of his poultry-centric Paris restaurant, Antoine Westermann tweaks tradition with a delicious and relatively light chicken baeckeoffe. It isn't restricted to Mondays and feeds two to four with enough leftovers for laundry day.
Mouse over or tap the image to read more.
On the menu at Le Coq Rico; $120; 30 E. 20th St., nr. Park Ave. S.; 212-267-7426
*This article appears in the April 18, 2016 issue of New York Magazine.