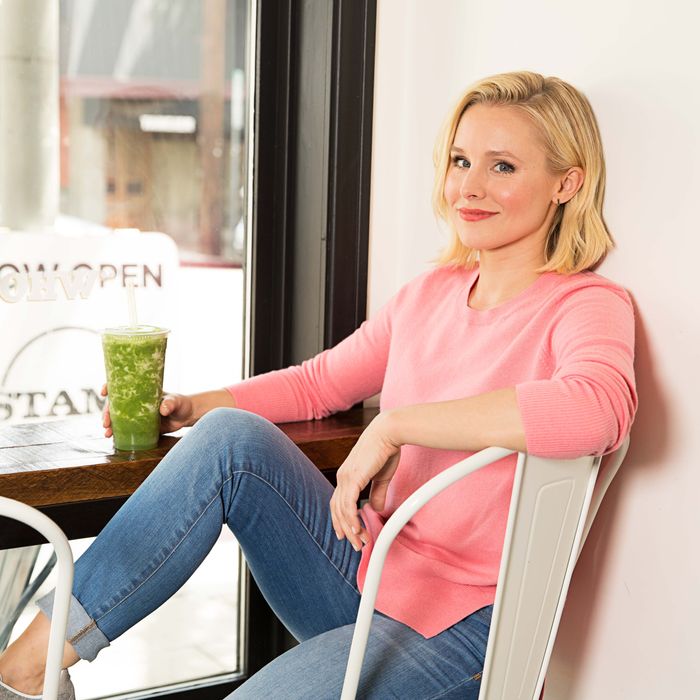 "I'm very into edible flowers."
Photo: Bradley Meinz
"I cook a decent amount when I'm working, and when I'm not working I cook almost every single night," says actress Kristen Bell, of Veronica Mars, Forgetting Sarah Marshall, House of Lies, and Frozen, among many other impressive credits. This week, she was hard at work on her new NBC comedy, Good Place, which premieres in September. So Bell ate her fair share of "garbage disposal" salads and pizza on set, but still found time to make things like coconut-milk rice and lentils for her family. Read all about it in this week's Grub Street Diet.
Thursday, March 31
For breakfast I had an egg-white scramble with avocado and habanero sauce from the caterer on set, and I made a matcha latte with almond milk. I always make my matcha latte first thing in the morning — it's just matcha tea and almond milk heated up. I'm not that fancy, but it has some nice caffeine and doesn't give me the slump that coffee does. After the 30-minute buzz, sleepiness sets in, which just isn't fair.
Lunch was my signature "garbage disposal" salad with spinach, chickpeas, cabbage, carrots, and cole slaw with a fig-glaze dressing and olive oil. Plus, baked sweet potatoes and Brussels sprouts on the side. Perrier to drink. We're lucky to have very good catering over at NBC. We always have a big salad bar, and my personal favorite dish in the world is my "garbage disposal" salad because it's never boring. I try to add a little bit of everything and keep my diet very diverse. Also, I always travel with a little to-go container of Maldon sea salt. I put it on everything. You remember those little lip-gloss containers, with the flat lids? It's in one of those, so it's kind of adorable.
For a snack, I had a dark-chocolate-cherry-sea-salt bar from This Bar Saves Lives. I'm a co-founder of the company, so I made sure all the flavors were my favorites. For every one sold, we donate a packet of life-saving food to a child in need. Win, meet win!
I cooked dinner at home: rice with coconut milk, seasoned black beans, and shredded kale on top. I learned this from an on-set caterer: Cooking the rice with coconut water or milk adds a whole new layer to it. It gives it a bread-pudding-like feel. And then Aris Greek fig yogurt topped with berries. It's a rarity for us to go out to eat because I enjoy cooking more. I try to eat almost entirely organic, so I like to know the source of my food. I'll often replicate my favorite dishes from restaurants, but with a little less salt, oil, or fat.
Friday, April 1
Breakfast was a scramble with egg whites, veggies, and feta with habanero sauce, and half of an avocado with sea salt. Matcha-green-tea latte with almond milk, per usual.
Another "garbage disposal" salad for lunch on set, with romaine, red beans, red peppers, and a fig-glaze dressing and olive oil. Baked potato, loaded, on the side. Perrier to drink. I later snacked on half of an Asiago-cheese bagel and iced green tea.
I got home around midnight from work, and there was leftover pizza from Lucifers that my husband and the kids had eaten, so I snagged some of that before passing out on my pillow, dreaming about carbs. I allow myself to do that, a) because it's delicious, and b) because 85 percent of my diet is healthy and thoughtful. I don't beat myself up when I eat foods that are indulgent. Also, if I can bribe my kids to eat vegetables by giving them pizza at a later point, I'll do it.
We grow a lot of broccoli in our garden, and I'll often cut it up and sauté it with olive oil or coconut oil, Maldon sea salt, and a sprinkle of Parmesan. They eat quite a bit of broccoli because of that. I've recently been into learning how to use the entire vegetable. Beyond composting, our broccoli plants flower, and the flowers are quite sweet. It makes everyone feel like a princess when they're eating flowers. I'm very into edible flowers.
Saturday, April 2
Breakfast was a smoothie with organic spinach, organic kale, frozen organic berries, maca powder, chia seeds, and chocolate vegan protein powder. Matcha almond-milk latte.
I used the online delivery system Postmates (a gift from the gods) to order from Sqirl for lunch. I got the sorrel pesto rice bowl and the Kabbouleh salad. It's my favorite restaurant in the city. So delicious. My kids love it. Postmates is a nice cheat to not wait in line.
My dad came in to town for the weekend, so we had a fun family day riding bikes with the kids and spoiling ourselves at some of our favorite places. We went to Houston's restaurant in Pasadena for dinner. It's my husband's and father's favorite. I had a double order of the kale salad with spicy peanut vinaigrette.
Sunday, April 3
Breakfast was another matcha almond-milk latte, plus oatmeal with coconut milk, raisins, banana, and agave.
In the early afternoon, I had a Starbucks Trenta unsweetened iced green tea, with light ice and a splash of lemonade. I also snacked on This Bar Saves Lives' Madagascar vanilla, almonds, and honey.
Late lunch was from Malo in Silver Lake. We ordered it while the girls were napping: spicy cucumbers, mock beef and pickle tacos, and dirty rice and beans. Malo is very, very yummy. And since I don't eat meat, I like that they have mock beef. There was a bit of sour cream and cotija cheese on top of the rice and beans. So good.
For dinner I had an English muffin with JoshEWEa's sprouted mixed-nut butter, and an organic Fuji apple. Perrier to drink. We had some friends and their kids over to play and watched Inside Out. My eldest daughter recently turned 3 and is just now starting to watch movies, so it was a big deal. We've been extremely selective and have tried very hard to divert her attention away from screens. When her third birthday came about, we took her to see Zootopia*. She got Inside Out as a birthday present, so we had a little party with all of her girlfriends.
Monday, April 4
Breakfast was a matcha almond-milk latte, and egg whites, feta, and hot habanero sauce. Half an avocado with Maldon sea salt, too.
Today's on-set salad included spinach and romaine lettuce, chickpeas, red beans, broccoli, cauliflower, jalapeños, red pepper, feta, and a fig glaze and olive oil dressing. Iced green tea.
I snacked on the wild-blueberry pistachio from This Bar Saves Lives.
I cooked at home for dinner: lentils with organic spinach and a fried egg on top. Plus, sautéed potatoes and butternut squash. I was replicating a dish that's at Stamp.
Tuesday, April 5
Matcha, egg whites, and half an avocado. Perrier to drink.
My GD salad had spinach and romaine lettuce, chickpeas, red beans, tofu, black beans, jalapeños, red peppers, feta, and same dressing. Iced green tea. For a snack I had carrots and two Daniel's vegan cookies (oatmeal raisin with protein, and peanut-butter-chocolate with protein). I do have a sweet tooth, but I monitor my sugar very closely. I believe sugar is toxic. It's not very good for our bodies. I'm not militant about it, but my sugar will come mainly from fruit or preserves. These cookies are fantastic because they have hemp protein.
Dinner was cheese pizza from Della's Kitchen, also on set. We worked very late, and they got one of the pizza-makers to come and make pizza for us on set. My diet is a little cleaner when I'm choosing everything and have the time, but you've got to work around what you're given.
*This post has been updated to show that Kristen Bell took her daughter to see ​the movie Zootopia for her third birthday.