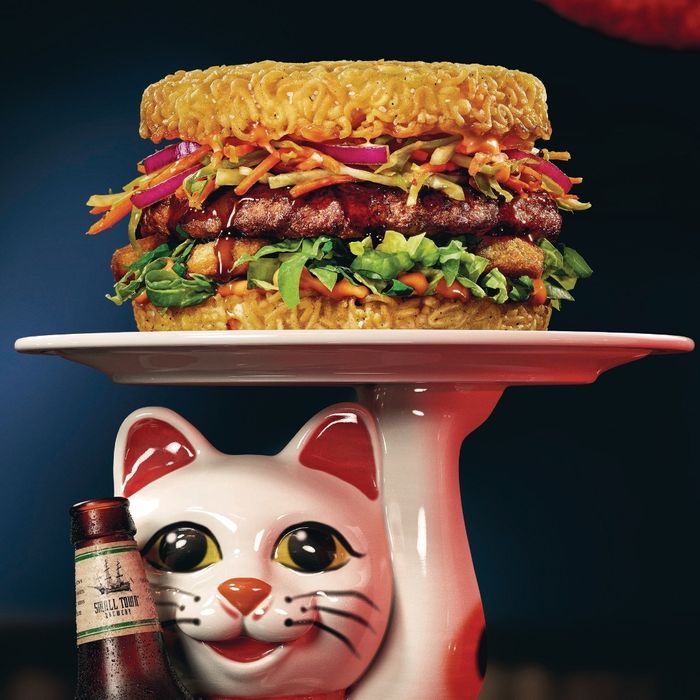 Definitely not a threat, Shimamoto says.
Over the weekend, Red Robin started serving its clone of Keizo Shimamoto's immensely popular ramen burger, a limited-time item the chain hopes will capitalize on the appeal of the original, albeit in a more mainstream way. Red Robin's version isn't fancy, really — it's a mix of patty, teriyaki aioli, chili-infused slaw, and fresh basil on noodle buns — so to make up for that, it's hyping an impoverished-college-freshman angle. In a couple of weeks, it's holding a one-day promo where locations will sell a select number of faux ramen burgers for 22 cents, ostensibly the price of a ramen packet.
Up until now, Shimamoto has been mum, which is unusual for the victims of these kinds of blatant rip-offs: Dominique Ansel made it clear his Cronut was the Cronut® in order to thwart copycats (a list that includes the likes of Dunkin' Donuts and Red Robin itself), and David Chang got really, really upset at Starbucks for rolling out stuffed bagel balls that looked suspiciously similar to Milk Bar's bagel bombs.
Technically, Shimamoto's burger is a Ramen Burger™, too, but a rep for his burger brand tells Vice he's actually flattered to see a big chain attempt to copy his creation. That doesn't keep him from putting Red Robin in its place, though — he wants it made clear he had zero involvement in the chain's knockoff, and, just for good measure, his rep also throws in, "Ramen Burger is not just a burger, it's a global brand. Many restaurants from the corner ramen shop to national burger chains have tried to imitate it, but have failed. Ramen Burger is an embodiment of Keizo's vision and passion, which can never be replicated."
[Vice]