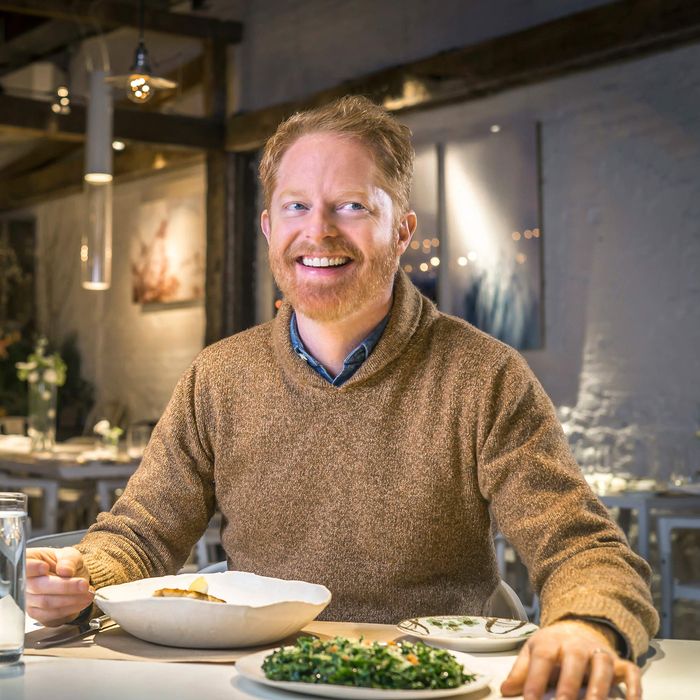 Ferguson at one of his regular stops, ABC Kitchen.
Photo: Noah Fecks
Today Modern Family's Jesse Tyler Ferguson begins previews on Broadway for Fully Committed, his first Broadway show in more than ten years, and it just so happens to be a satire of the restaurant industry. While all the rehearsals didn't leave the actor much time for cooking at home — something he enjoys so much he started a food blog — he still had time for one spectacular Easter dinner at Martha Plimpton's house, as well as a week full of visiting restaurants both trusted and new. Read all about it in this week's Grub Diet.
Saturday, March 26
I started tech rehearsals for my play a few days ago, so I've had to focus extra hard on eating good food and not just grabbing a protein bar in the interest of saving time. Today rehearsal was later, so I was able to sleep in and get a good breakfast before going to the gym and then heading up to the Lyceum Theatre at 2 p.m.
I took a Citi Bike to Bluestone Lane, an Australian café that's close to my gym. I discovered it last summer with a friend of mine, who is an Aussie, and it was really delicious and easy and had a casual atmosphere — my favorite type of place to eat. Also, the staff is very attractive, as most Australians are. It's a favorite of mine. Apparently, it's also a favorite of everyone else's in lower Manhattan, because I waited 20 minutes for a single bar stool and finally had to bail. Maybe I'll have better luck midweek.
I'd passed this place on the way to Bluestone called Rosemary's that I'd never been to before, so I went back to try it. I sat at the bar and ordered an almond-milk latte and fresh-squeezed apple juice; although, I would say apples are pressed, not squeezed. Details. I wanted the frittata, but they were out of it. My breakfast karma was making me cranky. I went with the Napolitano (scrambled eggs, tomato, basil, burrata, arugula, and pine nuts) and the housemade sausage. It was really good. The restaurant is also really cute — I'll have to go back for dinner sometime.
After the gym, I stopped by the new Sweetgreen in Union Square to pick up a salad to take to rehearsal. Last time I popped in there it was busier than Grand Central Terminal, but my karma had improved and it wasn't too bad. We just got Sweetgreen in L.A. and I love it so much. I'm a creature of habit and I usually get the Spicy Sabzi, but I decided to be adventurous and I picked up the Rad Thai with chicken instead. When I went to pay I realized I left my credit card at Rosemary's. Ah, there's that bad karma. Thankfully, my husband is in L.A. this week and wasn't privy to this. I leave things behind all the time, and it makes him really fussy. Wait, is he reading this?
I had big Saturday night dinner plans with my friend Lea DeLaria at Upland, but she texted me about two hours before dinner to give me a heads-up that she wasn't feeling great and may have a cold. I demanded she stay away. I couldn't risk getting sick while in the final days of rehearsal for my show. (Did I mention it's a one-man play in which I tackle all 40 characters? I didn't? Well, it is.) The reservation was a tricky one to secure, so I decided to go solo and text Lea photos of the food I was enjoying without her. Mean, I know.
Upland is delicious. It also has a really fun, young party vibe while still holding on to its classic bones. I sat at the bar and allowed myself a glass of wine to celebrate a good week of tech rehearsals; plus, it was the night before Easter and I had the next day off. If I was there with friends, I would have ordered the fried mushroom and one of the amazing pizzas. Since I was solo I ordered the steak tartare and cacio e pepe pasta. Both were insanely good. It was the fanciest date I have ever taken myself on.
Sunday, March 27
Easter Sunday! I finally got out of bed and dragged myself to find brunch around 11:30 a.m. I figured since I was solo — I promise, I do eat with people — I could find a single seat somewhere, so I walked up to Maialino in the Gramercy Park Hotel. I tend to lean toward the "unch" side of "brunch," and I really wanted a burger. They didn't have one on the menu, but they did have cacio e pepe soft-scrambled eggs. Yes, please! I know I literally just ate this flavor profile 16 hours ago, but there is just something about the combination of Pecorino cheese and fresh cracked black pepper. Needless to say, it was delicious. I also got a toffee-glazed brioche bun (because I deserve it) and carrot-ginger juice.
It was time to be social, so for Easter dinner I went to my friend Martha Plimpton's house in Brooklyn. She insisted I only needed to bring wine, but I brought her fancy pantry items from Bedford Cheese Shop on Irving Place, one of my favorite markets in Manhattan. They have everything from fine sea salts and incredible olive oils to rare mustards and high-end chocolate bars. They also make a mean sandwich and have an extensive cheese selection. Good thing, since they are called Bedford Cheese Shop.
Martha hosted a small dinner party of seven and cooked an amazing spread. The roasted leg of lamb was the star of the dinner. Side dishes included crispy quinoa saffron cakes, sautéed green beans, and rosemary potatoes. Oh, and wine. Lots and lots of wine.
Monday, March 28
I was a tad hung-over from Easter dinner. Wine hangovers are the worst. I knew that going into it. Why don't I learn? I crawled out of bed at nine to grab a PB Açai Bowl, with açai, peanut butter, granola, bananas, and strawberries, from Juice Generation. It's my favorite quick breakfast in the hood. I also got a Cold Warrior, a fresh juice of OJ, ginger, lemon, honey, and tea that's heated. It's perfect for my tired vocal chords. I have been having one every day after rehearsal. Sometimes a few times a day.
I walked up from Union Square to my tech rehearsal at the theater, and on the way I passed a cool-looking counter-service eatery called Dig Inn. They had fresh ingredients and local, seasonal vegetable dishes, and a lot of people in line who looked like they appreciated good food, so I knew it was probably a good bet to pop in. I built a plate of farro with butternut squash and charred chicken. I went with roasted kale with caramelized onion and Sicilian cauliflower for my sides. I loved this place! Delicious, healthy, and endless food-pairing options.
My sister-in-law and niece were in town looking at schools, so I met up with them after rehearsal for dinner at my favorite local Mexican place. Javelina is technically Tex-Mex, and it's also technically delicious. I had been craving enchiladas for a week, and I kept talking myself out it, so I finally decided to just go for it. Mexican food is a meal best shared with other people. You can all have group remorse afterwards. I had the chicken enchiladas, and we shared a bowl of queso and guacamole. See. That's why you have to go with a group. No one should be expected to tackle a bowl of melted cheese alone. (Although, admittedly, I would be up for the challenge.)
Tuesday, March 29
Breakfast is not my favorite meal, but I feel like I have to complete it if I'm going to have a productive day. I had a full morning of press for my play before rehearsal so I had breakfast on the run. It was a repeat offender, the PB Açai Bowl from Juice Generation. I also had an almond-milk latte from Irving Farm Coffee Roasters.
I had my photo shoot for this very piece at ABC Kitchen around 11 a.m., which I frequent a lot because I live in the area. I love the atmosphere, and I think it's beautiful, and it's really tasty food, too. The staff is always super-friendly, and here's a peek behind the curtain: We set up the photo shoot before the restaurant opened. I asked if I could stick around and eat the meal I was being photographed with (I didn't want to take it to go), and they were kind enough to oblige. So while the fantastic crew at ABC Kitchen ate their staff meal at the bar counter I sat at a table in the empty restaurant and finished my black sea bass with chiles and spinach, and my serrano-and-mint kale salad. The sea bass was really nice, with a crispy skin. I almost always get the kale salad. Sometimes I'll get it as a meal. I just add chicken to it. I've even tried to figure out how to make it at home. A side note: Although I didn't have one, the cocktails here are amazing, with the margarita being my favorite. Also, the homemade soft cocktails are so delicious. There is nothing like the lemon-thyme soda.
Dinner happened after a nap at the Lyceum. I had done a run-through of the play in the afternoon, and I needed to rest up before doing an evening run for a small invited audience. I ordered food from Dig Inn again and took a lie-down while I waited for it to arrive. I went with roasted chicken this time over salad and a side of roasted sweet potatoes. I tried it with the housemade hot sauce, which was amazing. I always have to eat light before going onstage, and it definitely tided me over until I got out of the theater. This place is a great new find.
When I got home from rehearsal around 10 p.m., I was starving. I had some leftovers from Babu Ji, a fantastic new Indian restaurant in the East Village. So I heated up the last of some butter chicken and babu daal. The daal was the creamiest daal I have ever had, and yet it's simply slow-simmered black lentils, ginger, and garlic. The chicken is marinated in yogurt with a ginger, garlic, tomato, and fenugreek curry. It's phenomenally fresh and was delicious even days after I ordered it. I love going to Babu Ji: The restaurant is always packed (which sometimes makes it hard to get a table) and has a great communal energy. However, this order was delivered through the Caviar app. Praise be to the Caviar app!
Wednesday, March 30
I had a training session at 8 a.m. It was early, but I've been finding that going to the gym first thing in the morning has helped me with my stamina for the play. I had a protein bar on the way to the gym. Afterwards I walked back to Bluestone Lane to try my luck on a Wednesday. (This journal really has a full-circle story, doesn't it?) Success! I sat in the back dining area and ordered a small piece of gluten-free zucchini bread as a starter, and a bowl of the almond-milk quinoa porridge. It sits over a beautiful dark and tart berry compote and is topped with toasted pepitas, sunflower seeds, almonds, cacao nibs, smooth almond butter, and bananas. A perfect dish to fill my belly on this cold spring morning.
I ordered a few almond-milk flat whites. I learned about a "flat white" while visiting Australia. I wanted a coffee with milk, and apparently that doesn't exist there. A flat white, however, does. It's basically a coffee with steamed milk; or maybe it's espresso and steamed milk … but isn't that a latte? I don't know. I don't ask questions. I order them in an Aussie accent. It's a hit-or-miss joke with the staff, but it makes me laugh, and it makes my husband roll his eyes. As most of my repeat jokes do. It's understandable. I know he's laughing on the inside.
For lunch I went down to Cafe Gitane on Prince and Mott in Soho to grab something to take to the theater. I got the couscous with chicken, one of my favorite dishes in all of Manhattan. (Their aioli salad is also unbelievable). This has been one of my favorite cafés in NYC for years, and I never get tired of their menu. Their dishes all have a rustic simplicity; perhaps that's because they are all prepared behind a counter with limited cooking means. I'm usually there once a week having breakfast or lunch. You may even see me branching out and enjoying one of the other delicious plates!
I swear I did not plan this, but dinner was from — trumpet sound — Dig Inn. Company management brought in food for the crew before my invited dress rehearsal that evening. Great minds think alike. I stuck with the roasted chicken and sweet potatoes, as to not feel too heavy before the run.
I forgot to mention there is a point in Fully Committed where I have to eat two huge Cheetos. So let's add eight plus-size Cheetos that were consumed over the course of five days to this journal. Just five because I did not, nor will I ever, eat a Cheeto on Easter.