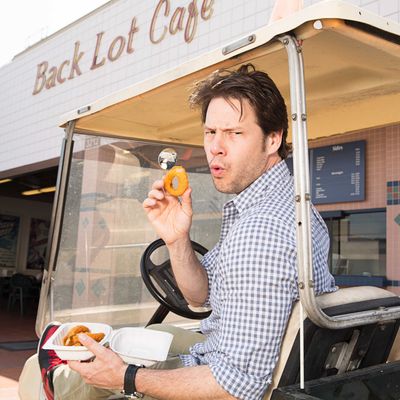 "I have to check myself before I wreck myself."
Photo: Bradley Meinz
"Food is my jam," says Ike Barinholtz, who writes, co-produces, and acts (as Morgan Tookers) in The Mindy Project, which had its mid-season premiere this week. And it holds true — not many casual culinary dabblers can claim loving Cook's Illustrated, "the nerdiest magazine publishable." This week, Barinholtz, whom you can also catch alongside Zac Efron and Seth Rogen in the upcoming Neighbors 2: Sorority Rising and in DC Comics' Suicide Squad, got to flex his skills while cooking for company, but there was still plenty of time for burgers and chicken French dips, plus a dose of kale on the Mindy Project's set. Read all about it in this week's Grub Diet.
Friday, April 9
"Don't talk to me until I've had my coffee!" is a rude cliché, but I am worthless until I've had a cup. I like organic instant coffee (Mount Hagen) with raw sugar and organic soy creamer. Sometimes when I drink it I think about my grandfather in France in World War II drinking black coffee that was filtered through a dead Nazi's sock, and I imagine that he would mock me for the way I take mine. But it's sweet and strong, like me. That's lame, what I just typed.
I have pretty much the same breakfast five to six days a week: a slice of multi-grain toast with peanut butter and blueberries. It's got sugar, carbs, fruit, and protein and gives me the energy I need to tell my 3-year-old daughter that she can't watch Frozen right now because it's time to go to school.
I was on hiatus for the week, so my writing partner and Mindy Project producer David Stassen came over so we could watch some of Kingsmen on HBO. I mean write. That's what we do. Anyways, we are fat little writer babies so we had to order giant sandwiches and fries from a place called Stir Market. Chicken French dips. They were delicious. We used Postmates to bring it to us because God forbid we go outside and travel somewhere. Seriously, though, Postmates is a big part of my life. I've had the same delivery driver twice in one day, which made me feel really lazy.
It's a federal law that people of Jewish descent have to order Asian takeout once a week, so my wife and I ordered from Night Market. (I guess I only order from restaurants with the word market in it?) Night Market is badass. That fried rice with candied pork is weird and awesome, and if you like spicy, this place will be your jam. The pad Thai has about 500 crushed dried Thai chiles that I mix into it. I put a bunch of Zantac into a Pez dispenser and just pop 'em after I eat something that hot (Jewish).
Saturday, April 9
My family has two traditions: 1) We kill and eat one drifter a year, and 2) every Saturday we go to Sycamore Kitchen for breakfast. It's from the husband-and-wife team at the now-defunct Hatfield's and is a huge winner for us. I get a Jerusalem bowl, which is a ton of whole grains like barley and farro with za'atar chicken and peppers with egg whites on top. I get it every single Saturday. It's a big hearty breakfast. They also (sometimes) have these ham-and-cheese croissants that are so flaky and savory, but they don't offer them anymore. I need them. If Donald Trump could promise to bring them back, I'd vote for him. Make ham-and-cheese croissants great again.
I did a light Saturday lunch, a protein shake and some kale-and-quinoa salad from a display case at my gym. It's good to sometimes treat yourself and eat prepared food while sitting in a hot car in a public parking lot.
For dinner that night, I convinced my wife to get Burger Lounge. It's around the block from us, and it's a mainstay. Grass-fed hormone-free beef that's smashed properly on a griddle. Fantastic. I went with a turkey burger and got one for my daughter, which she didn't eat, so I ate two turkey burgers. And like any fine meal, it's best eaten while standing in the corner of a kitchen while arguing with your child about how much ketchup she can have.
Sunday, April 10
Light breakfast, just toast and coffee and fresh pineapple that I am very good at cutting, which has to be one of the lamer brags a person can make.
I do love to cook, though, and Sunday afforded me the chance to do so. It was cold in Los Angeles (67 degrees), so I made some soup. A quick walk to the farmers' market to get ingredients led to a vanilla latte from Groundwork, which is ridiculously good and has great service.
Making soup is such a relaxing, cathartic experience. It takes a very long time, but it's very layered. You have to be very patient with it. There's something about letting something sit for hours and hours, and then being able to scarf it down that's very relaxing to me. We had company coming over, so I made a kale-and-white-bean soup, which is lovely and light and healthy, so I added spicy pork sausages and lots of Pecorino. I also made some garlic cheese bread, but one of my guests is no-gluten, so I actually got a gluten-free baguette and tried it. It tasted exactly like regular bread but without that nice texture or taste.
The soup came together wonderfully, and my guests said it was one of the best afternoons of their lives and that I am "as perfect a host as one can be." Their words, not mine.
I was still a little hungry before dinner, so I treated myself to a handful of blueberries. Then I ate three Reese's Eggs left over from Easter that I keep hidden in a cupboard. Don't tell my family, please.
Monday, April 11
Breakfast on Mindy set means a bowl of oatmeal and blueberries in front of everyone, and a biscuit-and-sausage sandwich by myself in the men's room.
It's our fourth season of The Mindy Project, and I have learned to avoid the rookie mistakes of eating giant bowls of ice cream and whole sleeves of Pringles, but I occasionally do fall into food-truck wormholes. We have many food trucks on our show, and I spend 10 percent of my life waiting for food trucks to start serving. It's really embarrassing.
Shooting on location allows me to have a catered lunch with our crew. Robert De Niro told Zac Efron he doesn't eat lunch, and because I consider myself the De Niro of The Mindy Project, I try to keep it light. Carrots and chicken and some kale. This way, I'm light on my feet and able to eat a Five Guys burger in Mindy's trailer an hour later.
It kills me that I can't cook every night, but I can't, so it's time to Postmates again. Vagif F. delivered a wonderful meal from M Cafe De Chaya. I had a braised seitan banh mi and kale-and-peanut salad and nearly broke my wrist patting myself on the back.
Tuesday, April 12
My wussy coffee and special toast. My wife got me hooked on the instant coffee, and I know coffee purists dislike that, but we're living in a golden era of instant coffee. It's high-quality and rich.
I recently moved, had a second child, and am a writer on a comedy show. This is the "perfect storm" of weight gain, so I have to check myself before I wreck myself. It's all about balance, and I don't have much of it. But I try. I got the writer's lunch from Hugo's: some tofu bullshit stir fry that was actually really good, and I was only mildly jealous that my writing partner was eating a bacon cheeseburger.
Tuesday, for my late snack, I ate hot wings. They were delicious, and I have no regrets.
Got home and my wife and I had a lovely dinner together. I made steamed cod with bok choy and a sesame-chili dipping sauce. I'm just kidding: I made my wife a frozen Vicolo sausage-and-onion pizza, and I ate the crusts that she didn't finish.
I'm not kidding. That's seriously what I had for dinner.