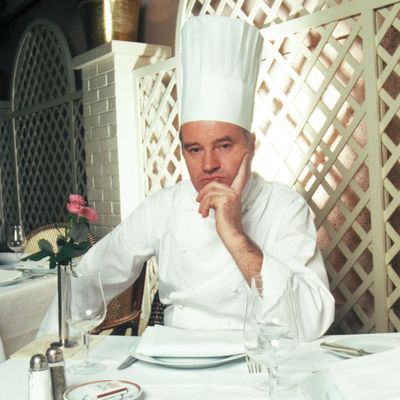 André Soltner at his restaurant, Lutèce.
Photo: Waring Abbott/Getty Images
Consider the following passage from a New York Times story on restaurant noise:
Noise in local restaurants is becoming an increasingly annoying aspect of dining out, and complaints on that score are frequent and abundant. The two main factors contributing to the deafening, headsplitting cacophony in so many New York restaurants are the high price of real estate and the design trend toward interiors lined with metal ceilings, bare floors and glass and mirrored wall panels.
Looking at that, one might be forgiven for thinking that the story was written in the last few years. Of course, it actually comes from a story that legendary food writer Mimi Sheraton published way back in February 1981, wherein the then-critic also draws this conclusion: "Restaurateurs should be less greedy, allow more space between tables and settle for lower profits."
Those complaints still sound familiar, and it seems people have been frustrated for decades by many of the same aspects of dining out: high prices, too-small portions, chefs that prioritize innovation and table-turning over diner comfort, and — of course — the ever-present issue of noise.
Then again, comparing a restaurant like Andre Soltner's legendary Lutèce, often considered among the most important restaurants in New York during the '60s and '70s, to the city's current collection of industry leaders — the Spotted Pig, Wildair, any of the Momofukus — it's quite obvious that maybe the dining scene has changed quite a bit.
Earlier this week, Grub editor Alan Sytsma, Sheraton, and New York critic Adam Platt convened at Via Carota to delve into that very topic (and a plate of fried calamari), touching on just how difficult it is to run a restaurant now — spoiler: very — as well as the role of the restaurant critic, and why so many of them hate the damn star system. Listen via iTunes, or just hit play below: