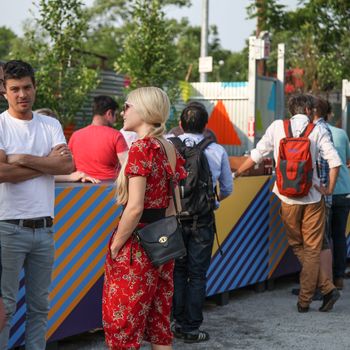 Hang time at Nowadays.
Photo: Hannah Mattix
It's getting to be a great time of year, when it's warm enough to sit outside but not so hot that you'd rather be in the comfort of air-conditioning. And after spending months hanging out indoors, New Yorkers are collectively (very) ready for the sun. There are, of course, already lots of great places to eat and drink outside, but more and more keep opening up. Here, 18 patios, sidewalk cafés, and backyards you can check out this spring, summer, and into the early fall, both brand-new ones and dependable spots that have opened in the last couple of years. Note that some will open in the coming weeks, and remember that no one can hassle you anymore if you bring your dog along.
Málà Project
Down in the East Village, the Sichuan restaurant serves its dry pot — similar to hot pot but without broth or sauce — in a patio with a communal table and brick walls.
El Atoradero Brooklyn
This weekend, the Prospect Heights restaurant from Cheap Eats alum Denisse Lina Chavez opens its backyard for micheladas and mole poblano. Note, though, that there are just a few tables.
La Sirena
Skip dinner and zero in on the spritzes next week, when Mario Batali's hotel restaurant opens its elevated outdoor space.
Babu Ji
Hang out in Tompkins Square Park, then go eat curry and kufli at one of the Indian restaurant's new sidewalk tables, launching May 7.
Fair Weather Bushwick
The coffee shop turned New American restaurant does lunch (Monday through Friday), weekend brunch, and dinner (Wednesday through Sunday) in its low-hanging backyard. There are also plans for whole-animal roasts using a new smoker.
Tekoá
Alex Raij and Eder Montero's all-day café launches rosé and cocktails this weekend, so get there early, grab one of the few sidewalk tables, and enjoy a drink and pastry.
Kingsley
The East Village spot has a pretty backyard for eating your charred octopus and nori-dusted Wagyu.
Leyenda
Here's a solid plan for tonight: Order the bar's goat picadillo tacos, a couple of Ivy Mix's Latin American–inspired cocktails, and take it easy in the back patio.
Threes Brewing
Post up at a table in the 3,200-square-foot backyard at the Gowanus brewery (and so much more), which regularly hosts pop-ups from excellent restaurants. Through May 8, Samesa will offer both brunch (breakfast hash with green zhug) and dinner (fish kofta po'boy).
Lolo's Seafood Shack
If you're uptown, drop by the Caribbean restaurant's patio — which looks more beach bar than Harlem restaurant — and pretend you're eating your crispy shark and bake in Trinidad.
Loosie's Kitchen
Attached to sister bar Loosie Rouge, the New Orleans–inspired restaurant's colorful backyard has vines and hanging plants, walls painted with geometrical patterns, and a semi-enclosed, open-air space.
The Freehold
The hotel-lobby hangout without a hotel (only in Williamsuburg) has an outdoor area with a full bar, benches for lounging, and games like corn hole and Ping-Pong, so you can relive your college days.
Mekelburg's
Take your baked potato outside at the Clinton Hill grocer and beer bar, which has a pleasant, fenced-in backyard with a few picnic tables and now greenery to liven it up.
Nowadays
Ridgewood's massive summer hangout — think your friend's awesome backyard — returns on May 12 with a few improvements. Namely, tap beer, with selections from Queens Brewery and Finback, and an expanded menu from Asiadog.
Colonia Verde
The Fort Greene restaurant's charming, hacienda-like back patio is certainly one of New York's best places to dine outdoors. Take advantage of it as much as you can.
Tacoway Beach
Okay: All of Rockaway is an outdoor dining destination, from beachside stands like Caracas Arepa and Rippers to Riis Park Bazaar. But the fish tacos at Tacoway Beach, which opens tomorrow with the Rockaway Beach Surf Club, are the perfect way to start summer.
Alta Linea
On May 2, the seasonal High Line Hotel restaurant returns (sans Epicurean Group) with an expanded food menu, with dishes like black cod with morels and asparagus, classic cocktails from Joe Campanale, and a new frozen cocktail, the lemon sgroppino, made with lemon sorbet, limoncello, Tito's vodka, and prosecco.
Grand Banks
The bar is already open, but the restaurant on the historic fishing schooner returns May 3, complete with its excellent lobster rolls, new dishes like fried blowfish tails, and, for the first time, limited reservations.