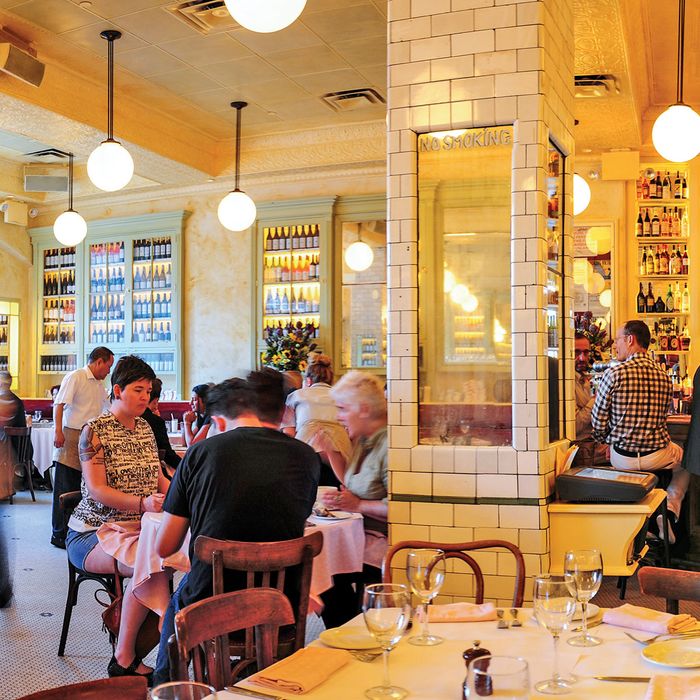 The room is really nice at Cherche Midi.
Photo: Sarah Silberg/New York Magazine
You've got to take your mom out for Mother's Day (it's May 8 — don't forget). But like Valentine's Day or New Year's, it can be a restaurant-going nightmare day, filled with mediocre mimosas and overpriced set menus. Your mom deserves better. So Grub Street scoured the city in search of brunch specials that are worthy of the woman who literally gave you life. As of now, reservations are available at all of the spots below, but you'd better act fast to secure a prime seat. Enjoy.
Where: The Cecil
Price: À la carte
Availability: Tons of tables for parties of two, three, four, and six throughout service.
Along with specials like a large-format crisp whole duck ($160, feeds four) with pickled ramps, pineapple hot sauce, and more, the Harlem hot spot will have live music from Emily Braden, a vocalist who won New York's "Best of the Best" Jazzmobile Vocal Competition.
Where: Dovetail
Price: $58 per person
Availability: Plenty of tables for parties of two, three, and four all service, and ones for six at 11 a.m. and 2:30 p.m.
For his three-course prix fixe, chef John Fraser has created special canapes like a caviar croquante, entrées including lamb-shank lasagna and a lobster omelette, and desserts such as Mexican chocolate entremet.
Where: Gabriel Kreuther
Price: $145 per person
Availability: Lots of tables for parties of two, three, and four; parties of five or more need to contact the reservationist.
The acclaimed Alsatian restaurant, usually open for dinner only, will serve Mother's Day brunch from noon to 6 p.m. The three-course prix fixe will include options like a sturgeon-and-sauerkraut tart, squab-and–foie gras croustillant, and chocolates made specially for the occasion.
Where: Meadowsweet
Price: Two-course brunch is $45 per person, dinner is à la carte
Availability: Parties of up to five people can still easily find a table; larger parties need to contact the restaurant.
At the New American Williamsburg restaurant, there's a two-course brunch menu with assorted baked goods for the tables and choices for mains including duck pastrami hash, a fried-chicken sandwich, and huevos rancheros. Dinner is à la carte, with special dishes like an appetizer of gnocchi with braised rabbit and herb ricotta and entrées such as roasted lamb with green garbanzos and spring onion.
Where: Le Coq Rico
Price: À la carte
Availability: There are plenty of tables for two available, and tables for three after 2 p.m.
If you want to keep things more low-key, or don't want to commit to a special menu, head to Antoine Westermann's poultry palace. It's the perfect mom restaurant, and they'll be serving their usual egg- and chicken-heavy brunch menu with all the French charm you'd expect.
Where: The East Pole
Price: À la carte
Availability: Finding a table when you want it is still easy, whether you'll be two, three, or four. Tables for six are available around 10 a.m. and after 2 p.m.
If Mom wants to stick uptown, head here. There will be special dishes include an egg-white omelette with asparagus, smoked salmon, crème fraîche, and caviar, as well as a gift basket (moms only) with a candle, jam, and more.
Where: Boulud Sud
Price: $55 per person
Availability: There are lots of tables for parties of two, three, and four.
All of Daniel Boulud's restaurants will open for the holiday. At his Mediterranean spot, options on the special three-course prix fixe include green shakshuka, ruby red shrimp with Spanish chili, and a chocolate hazelnut tort with Earl Grey gelato.
Where: Momofuku Ko
Price: $195 per person
Availability: Reservations went live today.
Treat your mom to one of the best tasting menus in town. Normally closed on Sundays, Ko will serve its tasting menu for both lunch and dinner this Mother's Day. Lest you think you can't get in, reservations just went live, so if you act fast, you might be able to snag some seats.
Where: Aquavit
Price: $85 per person
Availability: There are tables for two, three, and four all service, plus tables for six until 1:30 p.m.
The longtime Scandinavian restaurant will open for brunch, and chef Emma Bengtsson will mine her Swedish roots and serve a traditional smörgåsbord menu. Expect gravlax, king crab salad, and lots of other seafood, but also roast beef, Swedish meatballs, and desserts like Budapest cake.
Where: The Modern
Price: $138 per person for three courses, $158 per person for four
Availability: Lots of tables for two.
During lunch in the museum restaurant's main dining room, you'll have a choice of a three- or four-course prix fixe at one of Danny Meyer's premiere restaurants. You just know his staff will make your mom feel extra special.
Where: Khe-Yo
Price: À la carte
Availability: You won't have a problem finding a table for a party of up to six people.
Alongside the normal brunch and dinner fare, the downtown Laotian restaurant will have all-day specials like chicken wings with sriracha hoisin and Thai basil; soy-ginger braised osso buco with quail eggs; and "Mama's Lad Nah," a mix of Berkshire pork, chicken, and wild prawns seared in a wok with goal gai-lan and gravy-smothered rice noodles.
Where: Cherche Midi
Price: À la carte
Availability: Lots of tables for two, a decent number still available for four.
You might not be able to take your Francophile mom to Paris, but you can get her pretty close with Keith McNally's Bowery brasserie. The design is elegant, the windows partly obscure the streets (ideal for pretending you're in the Ninth Arrondissement), and the food is approachable, well-executed French.
Where: Via Carota
Price: À la carte
Availability: They don't take reservations.
The Grove Street spot is kind of an ideal neighborhood trattoria, and your mom will almost certainly become a fan (if she isn't already). Go drink some good wine or maybe a spritz, eat the bunless burger and some pastas, and just generally enjoy a very relaxed afternoon.
Where: Carbone
Price: À la carte
Availability: A surprising number of tables are still available.
In honor of Mom, you could hit up Major Food Group's red-sauce palace, which isn't normally open for lunch on Sunday, for one of New York's best steaks: the massive 60-day dry-aged porterhouse ($150), ideally with its smaller tenderloin made into a tartare for your appetizer.
Where: La Pecora Bianca
Price: À la carte
Availability: Lots of reservations for parties of two, for four around 11 a.m. and from 1:30 p.m. on, and for six at 11 p.m. and from 2:30 p.m. on.
Along with the regular menu, the Flatiron Italian spot will have specials like pasta al forno; maccheroni baked with short rib and brisket meatballs, plus two types of cheese; a crostino with stracchino cheese and sugar snap peas; and the Emilia-Romagnan dessert zuppa inglese, a sponge and custard cake.
Where: Runner & Stone
Price: $35 per guest
Availability: There's still lots of availability for all groups.
This one is for the bread- and pastry-loving moms. The prix fixe menu includes pastries from the talented Peter Endriss, plus coffee or tea, a mimosa or Bloody Mary, and a choice of mains like a crab-cake Benedict and a French toast with cannoli filling. You can supplement your meal, too, with spicy curried hummus, potato hash, and other extras and sides.
Where: Jean Georges
Price: À la carte
Availability: Tables for two available around noon and after 2 p.m., tables for four after 2 p.m. as well.
Jean George offers the best of both worlds: It's the kind of place moms love (or would love) to go, but the kitchen continues to crank out some of the more consistently compelling dishes in town. For the à la carte brunch this year, there will be appetizers like a decadent foie gras brûlée and tuna tartare, mains including grilled Berkshire pork chop, and those always very nice views of Central Park. Sure, it's pricey, but Mom will love it. (At Nougatine, there are also a bunch of tables for two available throughout service and a few for three and four after 3 p.m. if you want a more casual, less expensive meal.)
Where: Ivan Ramen
Price: À la carte
Availability: Plenty of tables for two, four, and six guests.
If your mom is a noodle fiend, this is your spot. Ivan Orkin's brunchified Japan-meets-Manhattan menu includes a "Japanese bodega breakfast sandwich," a breakfast ramen with dashi-Cheddar broth, and sake mimosas.
Where: Estela
Price: À la carte
Availability: Tables for four available after 2 p.m., tables for two all afternoon.
The room is magic during the day, and they serve some of the best brunch in town. If you're going to show your mom you love her, what better way than with Ignacio Mattos's egg, avocado, and pancetta breakfast sandwich? It's normally a lot more relaxed during the day, but this is one weekend you'll definitely want to make a reservation.
Where: Reynard
Price: À la carte
Availability: Tons of tables for two free throughout the day, and tables for three to six are mostly available.
Your mom will love Andrew Tarlow's stylish, civilized Wythe Hotel restaurant, which will serve a few specials along with its regular (always excellent) menu.
Where: Prime Meats
Price: $38 per person
Availability: Plenty of tables for all parties.
The Court Street homage to German-style steakhouses is serving a prix fixe brunch menu with options like Niçoise salad for an appetizer, mains including steak and eggs with chimichurri and a farmer's breakfast, as well as classic deserts such as coconut cream pie.
Where: Grand Army
Price: À la carte
Availability: Lots of reservations available for parties of all sizes.
Is your mom more about brunch cocktails than brunch dishes? Treat her to the Downtown Brooklyn bar's Bloody Mary platter: two Bloody cocktails, a pair of pilsner sidekicks, plus an assortment of oysters, clams, deviled eggs, peekytoe crab, and shrimp cocktail.