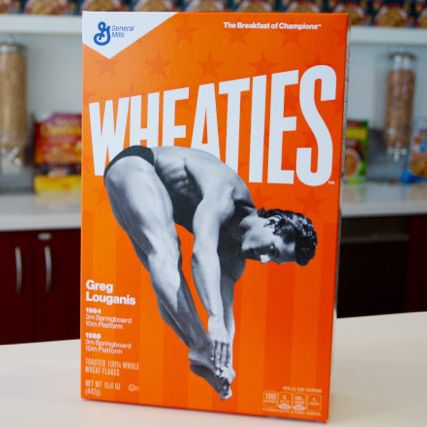 He's part of the "legends" series.
Photo: General Mills
Four-time Olympic gold medalist, and the only male to sweep the diving competitions in back-to-back Olympics, Greg Louganis is back in the public eye thanks to HBO's Sports Emmy–nominated documentary Greg Louganis: Back on Board. But despite his achievements and the fact that many consider him the greatest male diver of all time, Louganis — who came out as gay in 1994, revealed he has HIV/AIDS the following year, and is now an LGBT activist — never got a Wheaties box during his career. Now, nearly three decades after he won his last gold medal, he finally will.
Following the film's release, a fan launched a Change.org petition to get General Mills to put him on the Wheaties box. More than 43,000 people have signed the petition, though the company says it's just giving Louganis and fellow overlooked Olympians Janet Evans, a swimmer, and Edwin Moses, a hurdler, their due. Back on Board writer and producer Will Sweeney's response to the New York Times was, more or less, "yeah, right."
Though Louganis was not out during the Olympics, his sexuality was apparently the subject of rumors, and all these years later people still find his absence from the Wheaties pantheon curious. While it's just a cereal box, and maybe less relevant than it once used to be, this is definitely a big deal. Louganis's exclusion from Wheaties has been pinned on homophobia, and it's about time they fixed this.
[NYT]